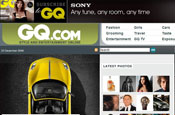 The revamped website will feature a combination of the men's style website GQStyle.com and GQ.com to expand the site's fashion offering.

The new editorial sections on the site will reflect the content headings in the print version and editorial additions include galleries of must-have products, news updates on bar and restaurant openings, as well as film and music releases.

The site, which originally launched 14 years ago, will further integrate advertising within editorial content, and will have more sponsorship opportunities for advertisers on new channels. The revamp will also have a faster search function and improved navigation systems.

Advertisers on the site will be able to place international campaigns on the GQ.com sites in Europe, with standardised ad formats across countries.

Camilla McPhie, the editor of GQ.com, said: The site's new technology will enable a real step-change in the user experience we can offer, while 'shadowing' the magazine's content creates a more symbiotic relationship between online and offline, pushing readers and users between the two.

"GQ.com is now a far closer reflection of the magazine, with the new editorial sections mirroring the content headings in the print version.

"And with expanded content in areas such as fashion, as well as greater capacity for timely content, GQ.com is positioning itself as a real online destination for the stylish man today, satisfying visitor interests and encouraging return visits."

The revamp, driven by the publisher's interactive division, CondéNet, follows the relaunch of Vogue.com and Glamour.com in April last year.