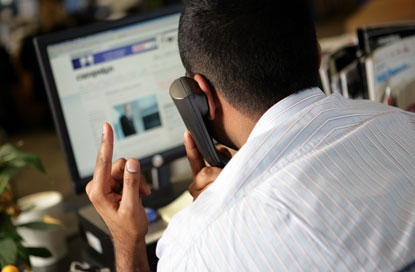 Hello my names Tom Messenger I'm calling from... an agency... err, we've done some stuff with British Airways before, I think.

"Anyway I've heard you have a pitch coming up. Just wondering if there's any room for another wise-man at the inn?.

My name wasn't Tom Messenger and truthfully I wasn't sure what agency I was calling from. This was the third time I'd spoken to this particular marketing director today.

It was my third fake name and third time I'd got a different ad agency onto the same pitch list. Confused? I was.

Welcome to the world of a new business agency.

Emotional process

Whether you're tasting the cheese cake of victory on your lips or being slapped round the face with the wet fish of failure, pitching to win a client is an emotional process.

Winning or losing however is only half the story. Getting on the pitch list is just as hard as responding to the brief. Do you fancy making a 150 cold calls to brands begging for a brief?

Of course you don't, you're important! Important people don't do that. So why not outsource to a new business agency, they're the experts after all? Aren't they?

I had a job flogging IT support over a phone. Stuck on planet 'Dull' I craved a more creative existence.

The problem was I didn't have the experience to break into a creative industry.

Hardcore telesales

A girl I knew worked in marketing recruitment. She had contacts with a leading new business company that serviced some of the biggest agencies in the business.

She was clear what to expect: 'It's a hardcore telesales job where you'll sit in a room full of people that hate it.

"But if you're any good in a year you'll get picked up by an advertising agency'. And so I started at a new business agency, where the unofficial staff motto was 'sink or swim'.

On my first day of training I got chucked a folder. It was my training manual, a page with a line on it.

Anything that was big and worth a lot of money went 'above'. Anything a bit annoying like a leaflet that falls out of the Sunday Times went 'below'.

Tears, tantrums and anarchy

Anything that encompassed both 'integrated'. Armed with my unflinching comprehension of the marketing disciplines I hit the phones. My ignorance however was the least of my problems.

The neglected office was always teetering on the brink of tears, tantrums and anarchy. Every day was like stepping into a remedial class for problematic kids that people were too petrified to teach.

Racism, homophobia, sexism, and drug dealing were all present on the floor. Nobody had any experience of marketing or agency life.

The management undertook a recruiting policy where no sales skills were required, only a pulse. The outlook was so bleak that everyone, bar no-one, was plotting an exit strategy.

The account managers were generally made up of rude boys you might find in a high street mobile phone retailer and antipodean travellers fresh to London.

No training

There were one or two bright people but they never stayed long.

There was no sales training. If you couldn't sell you were yelled and bullied until you were sacked or quit.

A kiwi colleague spent a call pitching his agency to a marketing director. Bizarrely he kept on citing his travel experience.

After the unsuccessful call was finished I informed him that DFS sold furniture and were not 'duty free services' as he knew them back home.

With fundamental problems like these how did we book any meetings? Here are the tricks:

There are a gang of high profile marketing directors and contacts in industry that are known in the business as 'marketing slags'.

You might even be one. I know at least 10.

Meeting fever

People that work for some of the UK's most well known brands that just love a credentials meeting.

They don't have to have a project to discuss or any inclination to change their agency. They just can't get enough of meetings.

Yeah, they seem to have all the time in the world to book meeting rooms, chomp down on Jaffa cakes and lap up your creds. Each new client would get meetings on the 'slags' circuit first.

Then there were leads swaps. When my new business agency met a potential client we would tell them that their account manager would never work on a conflicting account.

This was a lie. In fact conflicting agencies would be put into the same pitch as standard.

This is how it works. I 'Forest Gump' my agency into a real pitch over the phone.

Different voices

Great. I then put the phone down stand up and shout 'pitch lead!' and anyone that can get their agency into the same pitch gets paid £50 and has to pay me £25 for the privilege.

I would even make the call on other account managers' behalves because they were too nervous that they would blow a live opportunity.

Hence I would speak to the same marketing director three times, with three different voices and three different names.

The company needed to, to survive. It fed off the few good people to keep the business afloat.

The main problem was that we were so removed from our clients industry we didn't know what a pitch meant to an agency.

People had little understanding of the fundamental differences between a 'creds', a brief, and a roster opportunity.

Industry moves

We just booked them. We were the forgotten scum at the edge of the industry. We felt out of our depth in our client's office. While the rest of our days were spent being verbally spat at, over the phone, by marketing managers and directors.

Disenchanted we searched for our own kicks. The data we were provided was fantastic. We received a weekly report that listed all industry people moves.

Once seeing that Pepsi had a new marketing director on board we decided to call up Coke-Cola's incumbent marketing director and left a message with his PA.

Tell him now I'm on board with Pepsi, things are gonna change round this town buddy! He's going down! It's going to get ugly. If he wants to chat man to man here's my direct line. All this while I was servicing the biggest name in adverting.

So who was the captain aboard the enterprise that let this culture thrive?

Personality disorder

Well, the owner was very well known in the marketing fraternity and had worked at a number of big advertising agencies.

Although in his early 40s he came from the former school of advertising's 'long lunch men. He suffered from some form of personality disorder.

Some mornings he'd bound though the door inappropriately ecstatic, kicking footballs about and whooping for joy.

Then by the afternoon, ravaged by depression, he would call an ill judged motivational team meeting.

Playing to a silent and bemused crowd he'd make nonsensical statements while losing the pattern of his speech.

New Porsche

He'd aggressively instruct us to book more meeting warning us the company was in financial peril. Then the next day, he would turn up for work driving a spanking new Porsche.

He had an insatiable appetite for new accounts. Even though he had neither the capabilities nor number of staff to service them properly.

And to be fair, he didn't really care. Everyone was signed on a three month retainer. After that if he had the inclination the account could be saved he would wring out the account manger's soul till more meetings popped out.

If it couldn't be salvaged he would simply move on to the next target.

Over the course of a year at least 175 accounts must have chugged through the machine.

At one point I found myself juggling seven accounts. Our clients were told we would never service more than three at any one time.

Towards the end I had created a good rapport with my clients.

Pure lies

I disliked the fact that behind the scenes their accounts were being spread so thinly.

Often, and especially with startup agencies, MD's would use our service as the final throw of the dice, praying to obtain that vital account that would keep their employees in jobs.

They would pay 6K for an account manager to aimlessly sit on the account for three months.

When they requested a status report they would simply receive back a PDF with a 'cut and paste' of pure lies.

Trapped in the abrasive atmosphere I felt morally soiled. Then it finally happened. I got the golden ticket!

An offer to work in-house at a cosy London agency.

Resignation

I remember the day I walked into my MD's office and handed him my letter of resignation.

He let rip: "I've just had our number one client on the phone and they want to stop working with us!

"They said you were too junior! I gave you a chance. I gave you the biggest agency in the world and you messed it up! You could have had it all but instead you're going nowhere. Get out!"

The next day he offered me an extra 7k to stay, but my time was over.

Eventually the new business agency was bought out by a more reputable company and the MD moved onto a new venture.

Most of his bridges in the agency world have been burnt but his nest egg is fruitfully secure.

So what about you? Still fancy using a new business agency now?

Advice

Well I must stress that the one I worked in was unusually bad.

A number of people I worked with have gone on to start their own new business services, all claiming to offer a unique and honest service.

The inherent problems though will always be the same. How talented is your account manager? How much time do they really have to spend on your account?

My advice? Get someone in-house. Someone young and hungry with previous sales experience.

They can immerse themselves in the rhythm and beat of your agency.

You can keep an eye on them and in turn they can keep an eye on you.

Once in while though, maybe on a quiet Friday afternoon, let them start an inter-cola war.

Go on. Just for the rush.