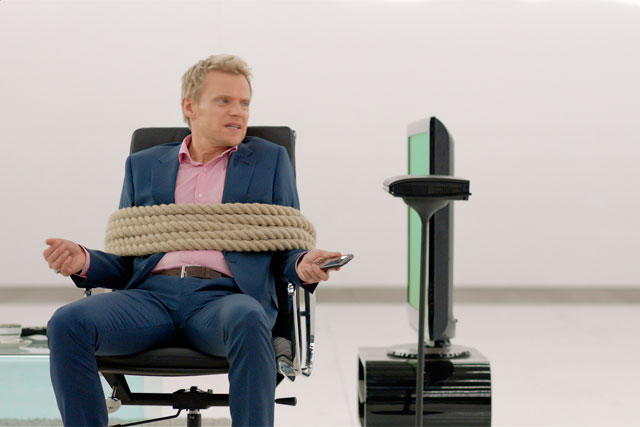 In a rare moment of moral probity, Mad Men's Don Draper is seen in one episode getting upset about being told to fire a small airline, one of his most loyal clients, to give his agency a clear run at the American Airlines account.
"What kind of agency do we wanna be?" he asks his colleague, Roger Sterling. "The kind where everyone has a summer home," Sterling retorts.
Half a century may have passed since the Mad Men were for real, but some ethical dilemmas confronting the industry don't alter. What has changed, though, is the consolidation of client companies into ever-larger units that offer a range of products and services that would have been beyond Draper's comprehension.
It certainly makes for some pitchlists that, on the face of it, seem to make no sense. None more so than the one for the £36 million Virgin Media account, for which Adam & Eve, Bartle Bogle Hegarty, Mother and the incumbent, DDB UK, have been shortlisted.
Yet BBH handles ITV, while Adam & Eve has been looking after YouView, the BBC-backed web-enabled service directly competing with Virgin Media.
Adam & Eve's current relationship with YouView is still unclear. Meanwhile, since Virgin sold Virgin Media TV to BSkyB for £160 million in June, any direct conflict between BBH's ITV and the Virgin Media account is arguably peripheral, although ITV is a stakeholder in YouView. Nevertheless, the agency is understood to have assured ITV that, should it win the Virgin business, nobody on the ITV account team will work on the Virgin Media account.
It all goes to show how convergence is throwing up ethical and logistical challenges for agencies but also producing the kind of pragmatism that Sterling would have applauded.
If only marketers recognised this caution and diplomacy a little more. "Clients don't show much loyalty or sentimentality to their agencies," one UK agency chief says. "So agencies have to do what they think is in their best interests."
This is exacerbated by the lack of perceived change in clients' hard-line stance over account conflict. "Until the day arrives when a client can't put a credible four-strong agency list together without encountering conflict issues, the situation won't improve," a leading intermediary declares. "Do I think that day will arrive any time soon? Hell will freeze over first."
The result is that agencies can find themselves having to make big and difficult decisions that test their principles. In 2008, Miles Calcraft Briginshaw Duffy - now merged with Dare - parted company with Debenhams to pitch for the John Lewis account, which it subsequently failed to win.
Helen Calcraft, Dare's executive chairman, says: "Because we also handled the John Lewis-owned Waitrose, we felt we would be sending the wrong signal had we declined. However, we confronted the issue head-on with Debenhams. They completely understood and we remain friends."
Meanwhile, the question remains as to how long clients can remain so uncompromising when it comes to conflict. Tesco, which has moved beyond its core business into financial services and telecoms, is said to be taking a more liberal view about the business it will allow The Red Brick Road, its lead creative agency, to go for. Will others also be loosening the leash?
Got a view? E-mail us at campaign@haymarket.com
AGENCY HEAD - Farah Ramzan Golant, executive chairman, Abbott Mead Vickers BBDO
"The issue is no longer one of conflict but confidentiality and how we respond to the need for it.
"For example, we promote the own-label products of our client Sainsbury's, but we also have an extensive portfolio of FMCG brands. We have to define what conflict is - and that's much more difficult when there are so many strategic alliances.
"The strange thing is that clients don't have the same problem with consultants like Millward Brown and Interbrand as they do with creative agencies. Consultants are admired for their specialist expertise, but creativity is more about judgment."
CLIENT - Matt McDowell, marketing director for Northern Europe, Toshiba
"When it comes to appointing a lead strategic agency, clients will continue taking a firm line as far as conflict is concerned.
"In the past, we've used agencies - particularly for PR - that do handle competitive accounts. But we have to be satisfied that our account is run separately.
"However, shaping strategy - when you have to discuss the competition with the planning director - is a different matter.
"Agencies with conflicting business sometimes come to us when they sense that relationship is ending. We may even make an approach to an agency ourselves if we suspect a relationship is rocky."
CONSULTANT - David Wethey, chairman, Agency Assessments International
"Clients generally are much more sanguine when it comes to conflict. After all, they share professional advisors in far more secret areas than advertising and marketing.
"What's more, they recognise that media agencies handle conflict all the time because media is much more of a trading business.
"Today's international clients tend to look for exclusivity in a particular product category rather than complete 'ownership' of the agency.
"In the end, though, agencies have to look out for themselves and that means making some difficult calls, particularly if their holding companies are getting tough."
CLIENT - Jeff Dodds, executive director, Virgin Media
"Although lines are becoming blurred when it comes to conflict, companies like us are of a scale where we can afford to take a strong line.
"Agencies, though, can be put in a difficult position. For example, if DDB UK, the incumbent on our business, had the opportunity to pitch for BT, we wouldn't be comfortable. But we don't see Tesco as a competitor, even though it has moved into telecoms.
"But I'm impressed at how loyal agencies are. When we were putting our shortlist together, we approached two or three with competitive but smaller accounts than ours to ask if they were interested in pitching. Each of them declined."