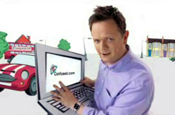 The business, which has been held by the independent London agency McCutcheon Norveil Consultancy since 2002, is under review as Confused.com responds to strong competition from rival price comparison sites with an increased ad spend.

Confused.com last reviewed the account in 2007, when MNC retained the business after a pitch.

Last November, Confused.com appointed the ad agency Farm to handle its creative account. The agency won the business to become Confused.com's first retained ad agency.

At the time, Confused.com said that it planned to increase its ad spend from £16 million to £25 million in a bid to differentiate it from its competitors.

In the six months to 30 June 2008, Confused.com, which is part of the Admiral insurance group, posted profits of £15.6 million on revenue of £36.6 million.

Though revenues increased, profits were down from £19.7 million in the same period during 2007.