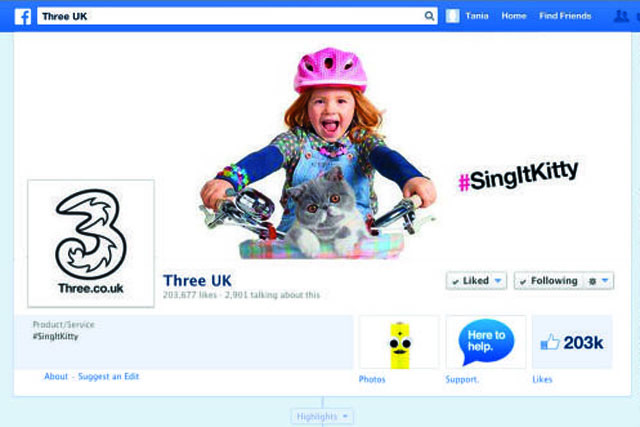 Campaign Fame II: Launch of #SingItKitty branding campaign

Partners Mindshare, Wieden & Kennedy
Platform Facebook
Link www.facebook.com/ThreeUK
Background
Following the huge success of its 2013 "#DancePonyDance" campaign, Three launched a new branding campaign encouraging people to share silly stuff with their friends and family by providing brilliant content that they can get involved with.

The aim
Three turned to Facebook to maximise the reach of the campaign at launch and drive engagement with the brand video in a contextually relevant environment.

The execution
Due to the success of "#DancePonyDance", Mindshare knew the new content would be perfectly suited to the Facebook News Feed. The agency recommended kicking off with a Facebook blast product to drive mass awareness.
Three used Facebook's All News Feed Reach Block to reach all the people who logged into Facebook that day in their News Feeds (mobile and desktop). This allowed Three to achieve massive scale while setting the stage for the sustained phases of the campaign that would follow.
The 60-second video, "#SingItKitty", is set to Starship's We Built This City and turns a shared moment between a girl and her kitten into a journey in which they belt out the song while pedalling a pink bike through a suburban cul-de-sac. It also included a 15-second clip driving users to an app to make their own music video.
Three used Facebook's native Page Post Video Ad for the first time, uploading the film directly to Facebook.
As well as reaching almost 21 million users in one day with paid media, 950,000 people actively engaged with this post (including video views, "likes" and shares). This also led to increased engagement with other Three page posts and significant growth in fans of the Three brand on Facebook.
Overall, 40 per cent of the "#SingItKitty" campaign's referral traffic came from Facebook. The brand saw a click-through rate of 4.09 per cent, which is approximately six times higher than other digital media used for the campaign. There were 46,100 shares and 3,422 additional viral shares.
"We used Facebook because of the huge audience you can achieve in one day," Daniel Lee, Three's social media manager, said. "We managed to inject a bit of fun into 21 million people's daily lives during our mobile reach block.
During the campaign period, we saw a significant increase in positive sentiment around the brand and acquired 15,410 fans to the Facebook Three community – an 8 per cent increase."
What the experts think
Facebook
Daniel Robinson, client partner, Facebook
Once again, Three and Wieden & Kennedy have combined to create a fantastic piece of video content, embracing 'internet silliness' and the operator's role in enabling this.
Facebook helped the campaign build rapid cover, with Three's '#SingItKitty' execution taking centre stage in more than 20 million News Feeds within the first 24 hours.
I think the campaign shows how brands can easily leverage the scale of Facebook's audience and the visual impact of the News Feed to complement TV. The fact that nearly 50,000 people chose to share the content is just the icing on the cake and a nod to the quality of Three's creative execution.
Media
Hamid Habib, managing partner, strategy, OMD
An 80s anthem and a singing cat – what's not to like? Three has created the perfect blend of scale and interactivity using an All News Feed Reach Block to engage more than 20 million people in a single day.
This gave them the platform to build a host of additional layers into the campaign, from starring in your own '#SingItKitty' video to a tonne of cat-related fun.
Three used Facebook's native Page Post Video Ads, achieving a 4 per cent CTR. Nearly a million people have interacted with the campaign, which is impressive, but you know you're on to a winner when it leaves a lasting impression. To quote one of the many comments: 'I just can't get the song out of my head.'
Campaign
Ben Hall, digital editor, Campaign
Three has produced some conversation-generating advertising in the past year or two and the singing kitten is no exception. The initial reach gained through Facebook's native page post has meant that the campaign has spread quickly across all social media platforms.
In the viral world, there is a constant stream of cat GIFs and memes that can be overwhelming to users. With this campaign, Three has not only positioned itself as a curator of the internet's weird and wonderful but, more importantly, it has made it easier for consumers who might not have otherwise found this content to dive in and enjoy. It will surely reap the benefits.