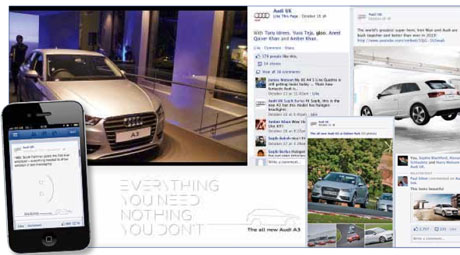 Campaign

A3 launch
Agencies

Bartle Bogle Hegarty, MediaCom
Platform

Facebook
Other media

Outdoor, print, digital
Background
The design of the new Audi A3 was initially based around three simple lines. In order to tell the story of how the innovative ideas and technologies in the car were created, the theme of "three lines" was used to bring this to life on Facebook.
The Aim
Audi wanted to engage more deeply with its target audience and use the themes of high-quality design and innovation to showcase the A3's launch.
The Execution
On Facebook, the aim was to grow awareness and engagement around pictures and content relating to the car, as well as starting conversations about how the most useful innovation is sometimes the most simple.
To do this, Bartle Bogle Hegarty used simple three-line drawings to celebrate other innovations that deliver "everything you need, nothing you don't". To show how electronics have developed over the years and how advanced the A3 is, there was a drawing of the first laptop as well as pictures of the new car. Audi enabled its audience to generate stories into the news feeds of their friends on Facebook, which boosted the campaign's reach.
Audi also ran premium ads on the right-hand side of the Facebook homepage and in fans' news feeds (on desktop and mobile) to amplify its messages. The mobile news feed performed particularly strongly. This placement alone delivered more than 16,000 new fans, 72,000 opt-in photo views and more than 110,000 total interactions over a ten-day period.
Facebook gave Audi a platform to increase awareness of the A3 launch and deliver impactful creative ideas in the most engaging way possible. Reaching the friends of their fans meant brand messages were served with social context, further improving performance and boosting peer-to-peer distribution.
Hugh Fletcher, the national digital manager at Audi UK, said: "This social media campaign took the idea of 'everything you need, nothing you don't' and really brought it to life in a new and exciting way.
"By avoiding a pure product message and highlighting other examples of simple, effective design, it proved a great way to get people talking about Audi and our latest innovations."
WHAT THE EXPERTS THINK
CREATIVE




Andre Laurentino, executive creative director, TBWA\London
"One of the most interesting things in this campaign is the dialogue that ensues in the comment boxes. You could argue that Audi did little else than run a typical print ad on a Facebook page. But you'd have missed the comments.
"I had a great time reading through more than 250 of them. Audi responded to the ones that demanded response and showed it's paying attention.
"Perhaps if the work that prodded the fans to talk was specifically designed for this role, the results could have been even better. The audience is clearly passionate enough to react even without a direct prompt. Imagine if Audi fanned this fire by using the inherent interactivity of Facebook to its fullest. That would indeed be everything it'd need."
MEDIA




Richard Morris, managing director, Vizeum UK
"'Simplicity is about subtracting the obvious and adding the meaningful,' John Maeda says, and he knows a thing or two about simplicity.
"A simple, confident three-line illustration of the new Audi A3 says much more about its design than words. And this is reflected in the media strategy: simple, confident and effective. New car design is a powerful social currency and is harnessed here to good effect. Core Facebook functionality, user content and paid media all play their part in this well-integrated campaign.
"A more participative idea inviting a deeper level of engagement with the creative thought may have made a good campaign great. Nevertheless, this is another example of how social media is becoming an essential tool in the way brands are being built."
CLIENT




Spencer McHugh, director of brands, EE
"This work fits nicely with the overall Audi positioning and is well-integrated with the offline elements of the campaign.
"The 'three lines' logic is clear and simple, and nicely executed in the images it has posted. The social elements do a decent job of extending the campaign thought of 'everything you need, nothing you don't'.
"Overall, it feels like a really solid Facebook campaign – one improvement that would be nice would be to see this simplicity of thought and clarity of execution continued through all of the posts and content the page produces, which can at times feel a little unconnected to the brand."
CAMPAIGN


Katherine Levy, media editor, Campaign
"From within the maelstrom of commercial messaging that bombards us every day comes this welcome piece of simplicity from Audi.
"Not only is the ad itself an intriguing conversation-starter, it's also served up as part of a Facebook dialogue among fans of the brand to their friends. Audi's decision to broaden the conversation beyond its own products is a deft move.
"Not all comments were favourable, of course: emotions run high when discussing cars and, occasionally, the Facebook feed was an avenue down which a disgruntled Audi customer felt compelled to drive home a gnarly comment. But Audi appears to have reacted to these well, and early, showing itself to be a responsive part of the conversation."