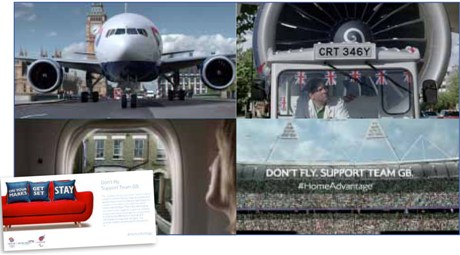 Campaign
Home advantage
Agencies
Bartle Bogle Hegarty, ZenithOptimedia, The 12th Floor
Platforms
Facebook, Twitter, YouTube
Other media
TV, press (including Metro coverwrap)
www.facebook.com/britishairways
Background
In February, British Airways used advertising to hero the BA team and show they are ready to welcome the world to London for the Olympic and Paralympic Games. Now, as the official airline partner of London 2012, it is usingsocial media platforms to promote its involvement and build profile in the run-up to the Games.
The Aim
According to Keir Mather, the strategic business lead and partner at Bartle Bogle Hegarty, the creative brief was: "What can we do to show our support for Team GB?"
"Home advantage" is a cry for Britain to stay at home during the Games to support the national team. Counter-intuitively, Britain's national airline is telling Britain not to fly.
"We hope that this Olympics, by admitting in a tongue-in-cheek way that the fortune of the British team is more important than simply buying BA's product, we will be seen as genuinely contributing to the performance of the British team," Mather adds.
The Execution
A series of high-profile TV spots were launched during Euro 2012 to "build conversation" and, with the British Olympic Association's backing, BA persuaded members of Team GB and ParalympicsGB to share the ad - so a lot of people heard about it first from the athletes.
It seeded the campaign exclusively on Facebook, allowing people to customise the TV ad by entering their postcode and, using the Google Street View Image API, watch a version of the film with the plane taking a detour down the street where they live. There were more than one million plays of the video in the first two weeks.
To maximise awareness of the campaign, BA posted a mixture of video and images on its Facebook page, which it then amplified to a wider audience using Facebook Premium Ads and Sponsored Stories. These appeared on the right-hand column of people's home pages and in their news feed, offering the opportunity to like, comment and share the content.
In addition, using a relatively new ad unit on Facebook, BA embedded the video ad in the platform's Logout Experience, giving people the opportunity to view the video at a time when they are actively seeking new content.
WHAT THE EXPERTS THINK
Creative
Nicola Mendelsohn, executive chairman, Karmarama
"I love this. It is confident, upbeat and I can't help but sing along to The Clash's London Calling.
"The campaign is well-integrated across all media, with an emphasis on social. So who better to partner with exclusively than Facebook?
"It was a great use of sponsorship of the Games to get athletes to use their Twitter feeds to launch the Facebook campaign. I'm a sucker for personalisation done well in advertising, so I think the Google Street View part is nicely integrated. My kids adored seeing their home pop into the execution.
"At the end of the film, I was left waiting for some further interaction. Perhaps I'll have to wait for something in the post since they now have my postcode!"
Media
Dan Clays, managing director, OMD
"How do you take advantage of Olympic partner status when your business thrives on people leaving the country? BA's answer is to be counter-intuitive and suggest people don't fly.
"Win the long-term hearts and minds of the country by putting the hopes of our athletes before those of the airline. The result is a TV ad that is light-hearted and memorable - an ideal combination for building conversation on social platforms.
"Persuading Olympic and Paralympic talent to Tweet about the ad and mention on their Facebook pages is a smart move to get the ball rolling. Building in Google Street View to enable people to personalise the ad cleverly increases the chances of content being shared. Thinkbox, Facebook and Twitter will be thanking BA and its agencies for this case study."
Client
Pete Markey, chief marketing officer, RSA
"It's a busy time for Olympic sponsors. With multimillion-pound investments, they are working hard to link themselves more closely with the Olympics and convince consumers they have a relevant role as sponsors.
"BA's social media-linked campaign is a smart way to show the relevance of its sponsorship with a tailored local video and content designed to get consumers to feel more involved.
"BA broadly pulls this off - engaging content closely tied to the celebration of the Games and the value of home-team support.
"Where it falls over, though, is engagement beyond a clever use of video and the chance to write on the BA Facebook wall - clearly more work to do if this is going to be a really engaging and relevant campaign success."
Campaign
Jeremy Lee, associate editor, Campaign
"It's a truism, but the key to successful sponsorship is for brands to get integrated into the spirit of an event, not simply slap a logo on.
"In this social age, if you are superficial about sponsorship, you get exposed - and if you are superficial about social, the consequences can be even worse.
"BA realises this and fair play to it for doing something different and tongue-in-cheek. In encouraging Britons to get behind Team GB, it's encouraging them to stay at home. I guess 'To fly. To serve' still works, but only when Andy Murray takes the tennis gold.
"I like it - it's bringing the TV ad to life by making it appear like a jumbo jet has landed on your street. Fun, unless you live in Hounslow under the Terminal 5 flight path, I suppose."