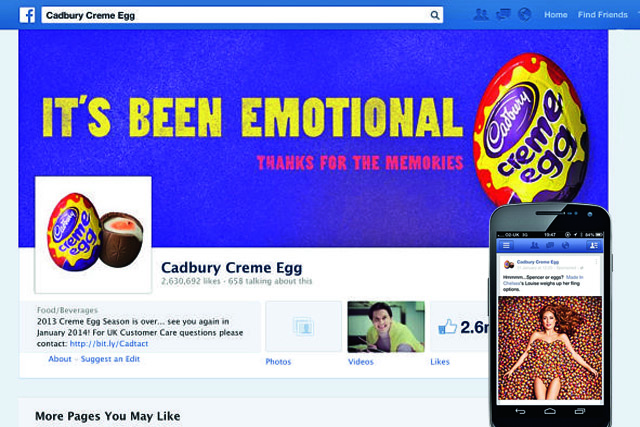 Campaign Cadbury Creme Egg – "have a fling"
Partners PHD, Fallon, Elvis
Platforms Facebook, TV
Link https://www.facebook.com/cadburycremeegg
Background
Mondelez International wanted to impact brand metrics for Cadbury Creme Egg by reaching as many of its key target audience of 16- to 24-year-olds as possible.

The aim
The objective was to use Facebook to reach 16- to 24-year-olds buying individual Cadbury Creme Eggs. Mondelez International wanted to see if applying the same rigorous approach that it employed for traditional advertising would drive similar results when applied to Face­book. It also wanted to improve cross-media efficiencies and make its TV ads for Cadbury Creme Egg perform better.

The execution
The priority was the News Feed because it's where people spend the most time on Facebook. The team needed to develop a new approach that maximised the impact and reach of every piece of Cadbury Creme Egg content. To achieve this, the team at Mondelez International took part in a Facebook Publishing Garage to bring its creative, media and digital agencies together. This ensured everyone was aligned and established content pillars for Cadbury Creme Egg on Facebook. Next, a News Feed publishing strategy was designed to promote a sequential message throughout the campaign, ensuring a consistent tone and visual style, and staying relevant to the target audience. Finally, the team leveraged Facebook's sophisticated targeting capabilities to ensure every pound was spent reaching the right people.
Sonia Carter, who leads digital and social for Mondelez International in Europe, said: "We're calling this approach 'storytelling at scale' and focusing on reach and impact rather than deeply engaging small numbers of fans. This is a positive shift in marketing culture for our organisation."
The company worked with Kantar Worldpanel to measure the campaign's impact. The results showed Facebook almost matched TV in driving brand consideration with a third of the investment. The campaign reached 15 million people (six million on mobile), 21 per cent of whom had not been exposed to the TV activity. The results also showed a 66 per cent lift in purchase intent for those
exposed to Facebook and TV over TV alone. Sales of single Cadbury Creme Eggs rose 9 per cent compared to 2012, despite a shorter season in 2013.
Carter concludes: "This campaign has proven to us that an approach to social that focuses on News Feed, responds in real time to audience engagement by adjusting content and boosts the best content with paid media can deliver tangible business results for our brands."
What the experts think
Facebook
Joy Poole, FMCG business partnerships
The success of this campaign boils down to two main factors. First, a very clear set of objectives and corresponding measurement plan were established very early in the process.
Second, the level of collaboration and co-ordination across the brand, agency and Facebook teams was unprecedented. By jointly evaluating the content and media performance, the campaign was constantly optimised to deliver against the stated objectives.
The results were impressive and the learnings useful for future campaigns. Equally important was the development of even more effective working relationships and practices – this is what will really fuel future success.
Creative
Ian Priest, group chief operating officer, CSM Sport & Entertainmet; president, IPA
The Facebook posts really capture the humorous tone, voice and quirky persona of the brand. The social media timeline activity establishes and follows a clear storytelling narrative, executed through standout creative content and visual identity. There is a clear journey from awareness of Cadbury Creme Eggs being back in the shops to user engagement and participation to a final call to action.
Results clearly demonstrate that the campaign delivered high reach and user engagement across Facebook. Some data to demonstrate a link between Facebook activity and direct sales would really top the campaign off.
Campaign
Ben Hall, digital editor
The campaign is fun and – with no apology for the pun – easy to dip into. It fits Facebook and social media perfectly: bringing together the best of high-end branded visuals, adapted internet memes and short video clips, all consistent with the brand's quirky personality.
Using the Facebook News Feed means Cadbury Creme Egg will benefit from being integrated into the native experience – target users are more likely to share content with their networks and acknowledge the brand while browsing their feeds.
Continuing, Cadbury Creme Egg should make use of Facebook to keep engaging users by providing timely and relevant content based on emerging trends.