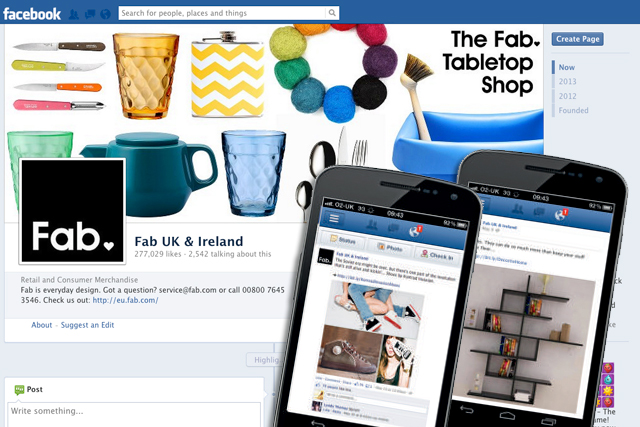 Campaign: Ongoing campaign
Partner: Nanigans (a Facebook Strategic Preferred Marketing Developer)
Platform: Facebook
Other media: Search engine marketing, digital display, mobile and TV
Link: www.facebook.com/fab.com.uk
Background
Fab.com, the fast-growing e-commerce website, launched in June 2011 with the idea that its design-led e-commerce experience should be social from the start, allowing friends to browse together just as they do offline.

The Execution
When Fab launched, it decided to focus its acquisition efforts on Facebook and use a range of the social network's solutions to unlock its full potential. A key part of Fab's strategy was to hire Nanigans to optimise and scale its activity on Facebook to the right volume to grow its business quickly.
Fab worked closely with Nanigans to test and refine creative and targeting to obtain the best results at scale.
Since launch, Fab has maintained an always-on strategy with Facebook centred on customer acquisition and driving sales. Fab now gains 30 per cent of its daily traffic from Facebook, and the lifetime value of customers acquired from Facebook is more than double those acquired through other channels.
People targeted with Facebook's Custom Audiences – a tool that allows marketers to target a specific set of people with whom they have already established a relationship on or off the platform – are ten times more likely to buy from Fab than those reached with standard targeting.
Fab also installed the Login plug-in on its site, enabling people to register instantly using Facebook. In December 2012, it also used the Facebook Logout Experience ad unit, which is seen by more than six million people in the UK every day when they sign out from the website.
More than a third of Fab's sales come through mobile, so driving downloads of the mobile shopping app is a priority. Fab has been successfully driving app installs using Facebook's Mobile App Install Ad unit since autumn 2011. The ads appear in people's news feeds, allowing Fab to reach the right people at scale where they are most engaged, and drive seamless app installs with just a click to the Apple App Store or Google Play.
Tom Beverley, Fab's vice-president of marketing, Europe, said: "Our mobile users are twice as likely to make a purchase than desktop users and, currently, 33 per cent of our daily sales come from mobile. Facebook Mobile App Install Ads help us bring in more mobile users who will convert more quickly into purchasers and pay back our investment two times faster than our other channels.
"We're gaining a higher lifetime value via Facebook than we are from anywhere else. Right now, Facebook is our most effective marketing channel."
What the experts think
Facebook
John Lamphiere, director of sales, UK and Ireland, Facebook
"Fab is a great example of a brand strategically using Facebook's suite of tools to drive business results at scale. Maintaining an always-on strategy and working with a Facebook Preferred Marketing Developer to optimise and scale activity on Facebook is the perfect way for a young business to accelerate growth and maintain its trajectory.
"Using Custom Audiences to reach the right people and drive discovery of relevant products, combined with Mobile App Install Ads to acquire high-value customers, is working well. Fab is a great partner that has built its business to be social from the ground up and the investment is paying off."
Media
Justin Gibbons, creative director, Arena
"It's interesting to see Fab use such a varied range of Facebook formats. Not many brands have utilised the logout page, but it makes sense for a young audience as they log in and out of shared computers.
"The Mobile App Install Ad is a mouthful but, undoubtedly, nudges people to download the app and become more regular shoppers. The use of Custom Audiences allows an advertiser to target its own e-mail database, and this is the clever bit for me: the Mobile App Install Ad is precision-targeted to existing users and I'm not surprised they go on to become more valuable customers.
"Measuring social has always been a hot topic and I'm sure that Fab is getting a rich set of performance data to boot."
Campaign
James Swift, deputy features editor, Campaign
"As a guy nearing 30, I didn't expect to find much to interest me at a store called Fab. But while it probably is more weighted towards women, Fab's Facebook page showcases a wide range of products to pique almost anyone's interest.
"The company plays the social media game well. Fab talks to users in an informal and jokey tone and responds to questions quickly. This is part of its always-on strategy – and it's a good one.
"The underlying concept of the store, that shopping online should be as social as real-life shopping, feels solid as well. Being a bit faddy and tying up new stock lines with events such as film releases doesn't hurt either and ensures Fab will get a fair amount of impulse buys."
Read more about Connected Campaign of the Month