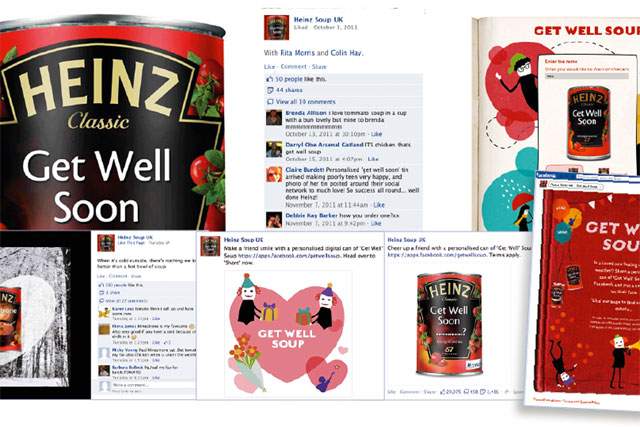 Campaign "Get Well" soup
Agencies We Are Social, Vizeum, Publicasity, Magnet Harlequin
Platform Facebook
Other media Metro.co.uk, The Sun
Link www.facebook.com/HeinzSoupUK
Background
Heinz knew its brand was front of mind when consumers thought of baked beans or ketchup and wanted this to extend to Heinz Classic Soups during the winter months, when people are more susceptible to getting ill.
The campaign was first launched in October 2011, but success led to a second phase in early 2012 and a further run later that year in November.
The Aim
The company wanted to build awareness and positive sentiment around Heinz Classic Soups in colder months using the simple insight that people eat soup when feeling unwell and it cheers them up.
The Execution
Fans were able to personalise the label of a can of Heinz Cream of Tomato or Cream of Chicken Soup with a get-well message for a friend feeling under the weather. Using an integrated PayPal facility, the can was delivered to their friend for £1.99 – less than the price of an average "get well soon" card.
The campaign provided strong engagement by offering something personalised and
exclusive. It also showed Facebook could be used as an e-commerce platform, not just a way to stay connected to consumers.
All promotional activity including PR drove consumers to Facebook. Teaser updates ahead of launch and Facebook Ads and Sponsored Stories in the News Feed were used to recruit new fans and engage the existing community ones. In phase two, a new flavour of soup was introduced as voted by fans and, most recently, can purchases contributed to pantomime performances for seriously ill children. In the first two phases, the Heinz Soup Facebook page had acquired almost 75,000 new fans, while more than 136,000 users engaged with the campaign. The page increased its interactions by more than 650 per cent and saw a 4,334 per cent increase in monthly unique visitors. The tab has been viewed more than 124,000 times and 76,000 fans have interacted with the application directly, with 4,184 Heinz Soup cans mailed.
"It proved a big hit with huge talkability," Sally Meekins, the Heinz marketing executive, soups, said. "It wasn't just the offer that people were engaging with, it was the idea and what it says about the brand by bringing people closer."
WHAT THE EXPERTS THINK
CREATIVE


Matt Groves, director of integration, Saatchi & Saatchi
"I could have done with this over Christmas! Having spent the past few months staving off the dreaded winter cold by squirting First Defence up my nose every hour, I was struck down the day after I finished for the year…
"So Heinz's 'get well' campaign, encouraging its Facebook followers to send a personalised can of soup to cheer up a friend or family struck down with the dreaded lurgy, is a simple and sweet idea.
"I really like the fact that, for every can purchased, Heinz contributed to pantomime performances for seriously ill children via the Starlight Children's Foundation, which was chosen by the Facebook community. A great example of an imaginative and on-brand Facebook campaign."
MEDIA

Matthew Hook, chief strategy officer, Carat
"This case study seems particularly timely, given that as a new year wheezes and sputters to a start, Facebook seems to have turned into a norovirus RSS feed. And that's what makes this idea so appealing – it doesn't start with the brand or the platform but with a naturally occurring action and conversation in culture, and then works from there.
"Because of this, it immediately unlocks the power of a real-world interaction with the product, and with a transaction, because the idea itself is too big to be trapped in a single platform. It's also good to see that this was a repeat initiative from the year before – I hope Heinz reiterates next year, and the year after, and that the idea becomes as famous as it deserves."
FACEBOOK




Yutaro Kojima, senior creative strategist, Facebook
"Facebook is most effective when people share about connections that are important to them. And what is more personal than a friend reaching out to a friend who is unwell?
"Heinz brilliantly taps into this inherent social behaviour by not only leveraging its strong brand positioning with consumers in a meaningful way, but also by physically manifesting intangible human relationships in the form of a soup can.
"On a platform that is entirely built around authentic identity, empowering people to express themselves is often what separates success from failure. This is why I highly regard Heinz's courage to allow its customers to take ownership of its iconic can design and believe this is the reason the campaign resonated so well."
CAMPAIGN


Suzanne Bidlake, consultant editor, Campaign
"I actively engaged with this campaign and sent a 'get well' can of soup to my brother-in-law to see how well it worked before writing this.
"The idea delivered beautifully. Arriving in a plain, poster-style tube, it hit the right note – just this side of cheesy and showed I'd made an effort. My brother-in-law, a suffer-no-fools surgeon, was tickled. He may even have eaten the soup. He certainly enquired how I'd done it – and so the Heinz conversation rolls around.
"The interaction figures look impressive and success must also be denoted by the campaign's iteration across three phases – each one moving the activity on slightly. Donating to the Starlight Children's Foundation in this most recent burst was yet another reason to delight a surgeon."