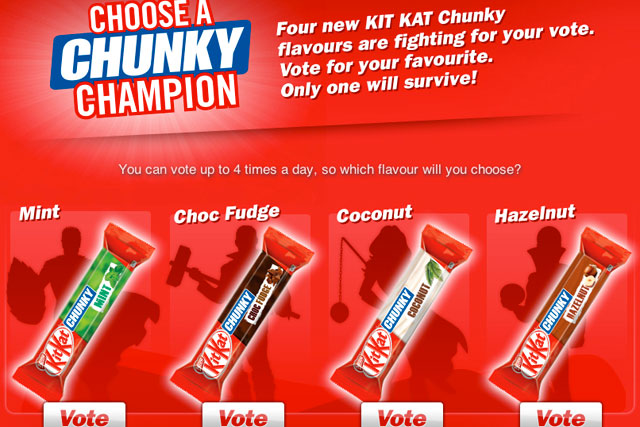 Campaign: Choose a Chunky Champion 2013
Agencies: JWT, Mindshare
Platform: Facebook
Other media: TV, outdoor, radio, digital including social online and mobile
Link: www.facebook.com/kitkatuk
Background
Last year, Nestlé debuted its Chunky Champion competition for Kit Kat, allowing people to choose from a selection of new flavours and vote for their favourite. The successful levels of engagement, which saw Kit Kat Chunky Peanut Butter win the vote and become a permanent addition to the Kit Kat range, inspired the business to replicate its success with a £5 million multimedia campaign in 2013.
The aim
To boost awareness and sales of Kit Kat Chunky, as well as develop its product range, Nestlé is encouraging fans of the chocolate bar to use Facebook to vote for their favourite of four new flavours: Coconut, Choc Fudge, Mint and Hazelnut. Consumers can also vote via Blippar, using the bar as a marker.
The execution
In January, Kit Kat introduced four spoof superheroes representing the new flavours via traditional media and Facebook. Kit Kat seeded videos of the heroes on Facebook ahead of the TV campaign's launch.
A clear publishing calendar and media strategy have ensured the Facebook page is regularly populated with fresh content. This content has been regularly promoted by and amplified with Facebook Ads and Sponsored Stories to ensure maximum engagement.
In addition, fans can connect with offline initiatives such as Kit Kat's tie-up with Capital FM's Capital Street Stars, which saw the "Chunky Champions" make appearances around the UK. They can vote up to four times a day until 15 March, when the flavour with the most votes will be declared the winner. Nestlé is building on the success of the previous campaign, which saw hundreds of thousands of votes cast on Facebook and 11 million bars sold.
A Nestlé UK and Ireland spokesperson said: "With consumers increasingly looking to have a say in the future of their favourite brands, what better way to interact with our fans than a campaign which draws on the opinions of our consumers to develop the Kit Kat range."
What the experts think

Facebook
Eric Edge, head of marketing communications, EMEA, Facebook
"Using Facebook to crowdsource a new flavour in a product line is a great way to engage with consumers in a fun and meaningful way as well as ensure future sales.
"'Choose a Chunky Champion' is a great example of how an engaged fan base can be like a giant focus group. The campaign has generated a lot of positive conversations, which Kit Kat has been able to boost with paid media to reach even more consumers and their friends.
"It's great to see Facebook used in a smart way in conjunction with other media; and this integrated strategy clearly works, as we can see from the previous campaign's results."
Media
Stuart Bowden, managing director, MEC
"In the confectionery category, any campaign that grows salience, triggers a synapse to fire and even possibly leads to an interaction or perhaps, just perhaps, triggers a trial is more than halfway home. Kit Kat Chunky Champion pretty much nails it.
"While it is no longer uncommon for FMCG brands to use owned and earned promotions to fuel their above-the-line activity, it is less common for this to become an enduring part of their communications plan.
"The fact that such a results-oriented organisation as Nestlé is back for a second and bigger outing for this approach demonstrates the commercial benefit of celebrating customer engagement."
Creative
Rob Fenton, managing partner, strategy and social media, Razorfish
"What I like about Kit Kat's social activity is that it mixes it up to achieve different objectives. Do Facebook fans want to help with another crowdsourced flavour campaign? I don't think Kit Kat intends to win an originality award. Neither is it original of me to state that Facebook marketing is primarily about generating stories on the friends of fans' news feeds.
"So, if flavour voting is a copper-bottomed mechanic for Kit Kat and there's a proven correlation between social reach and sales, then there is no harm in a sequel proven to work. But Kit Kat must balance asking people for input with giving unique content to share as with BreakFromGravity."
Campaign
Maisie McCabe, news editor, Campaign
"By introducing comic-book-style heroes, Nestlé has refreshed the Kit Kat Chunky campaign without losing the core voting element that worked so well last time. Moreover, by regularly updating the Kit Kat Facebook page, and promoting it through Sponsored Stories and Facebook Ads as well as above-the-line media, Nestlé has ensured there is a proper two-way conversation.
"The creative execution might not trouble the D&AD jury, but you can see the campaign is working by the sheer number of people commenting on Facebook. This sort of campaign not only uses social media effectively, but also would just not be possible without it."

To see more great work, visit www.facebook-studio.com