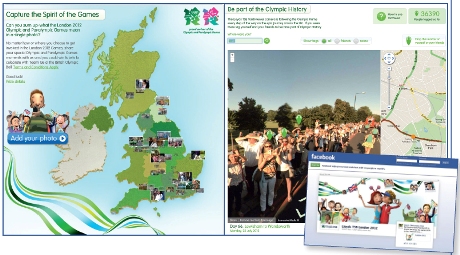 Campaign
Your Games, Your Journey
Agencies
Rainey Kelly Campbell Roalfe/Y&R, MEC, Immersive Media
Platforms
Facebook, Twitter
Other media
TV, out-of-home, press partnerships, installations at Stratford station
www.facebook.com/lloydstsblondon2012
Background
Lloyds TSB is a domestic Tier One partner of the London 2012 Olympic and Paralympic Games. It is using social media platforms to promote its involvement with the Olympics and Paralympics, building on the bank's existing community activities.
The Aim
Lloyds TSB has taken the opportunity to turn the conversation from banking and risk to people and celebration. Its Facebook activity integrates with an overarching campaign that aims to demonstrate how Lloyds TSB is bringing the Games closer to its customers and allowing them to personally benefit from its London 2012 partnership.
The Execution
Lloyds TSB's overall campaign incorporated several elements: Local Heroes (supporting local athletes in their dream to reach the Games), the Olympic Torch Relay (giving people who have done good in the community the chance to carry the Olympic flame) and National School Sport Week (helping more than five million children try Olympic sports).
The Facebook activity promoted these initiatives and encouraged participation in the Torch Relay. People were asked to tag themselves in a Torchview photo (using Google Street View technology) along the Olympic torch route and to upload photos of themselves as they followed the flame. They could also download photos of themselves taken at the overnight celebrations when the Torch Relay bus parked up at the end of each day. This was supported by geo-targeted Facebook advertising that followed the Torch Relay. Lloyds TSB also ran Facebook's Logout Experience - a large, clickable image that's displayed to the millions of users in the UK who log out of Facebook in a 24-hour period.
The Facebook campaign, which kicked off in early May, continued into the Games, with the platform acting as a hub to capture people's photos, stories and excitement in the "Spirit of the Games". In just two months, Lloyds TSB's Torchview notched up an impressive 35,535 photo tags and thousands of people uploaded their own personal Torch Relay photos to the Lloyds TSB 2012 page.
WHAT THE EXPERTS THINK
Creative
Katie White, head of Isobar Social, Isobar UK
"This has built on the strong brand positioning Lloyds TSB has established in recent years, and tied into the London 2012 Olympic and Paralympic Games to give it a unique take on the event.
"Tonally, it has a strong community and family feel. The map-based visualisation of photos is a nice way of displaying region-specific content. It taps into the pride of the nation and would certainly make those who generated content feel they're really part of something (it was no doubt a useful utility for tracking the torch when its journey was live).
"The experience could have been built out beyond viewing photography, to be more immersive for those who didn't want to contribute but were still interested in experiencing the spirit Lloyds TSB captured."
MEDIA
Mark Creighton, chief operating officer, Mindshare
"It's difficult to establish a role for a financial services brand in social media, especially when being 'friends' with a bank isn't particularly de rigueur. Lloyds TSB has clearly thought about the role it plays in Facebook. This brand page naturally extends out of its broader Olympic activity.
"The Torchview elements of the app encapsulate the sense of community that Lloyds TSB wants to associate with. The large numbers of people who have tagged themselves demonstrate that Lloyds TSB and its agencies understood how low friction mechanisms that encourage participation on Facebook keep your page fresh and engaging.
"There remains huge potential to continue to capture the 'Spirit of the Games' during the remaining Paralympic events."
CLIENT
Dominic Chambers, head of marketing, Audi UK
"With such mega events as the Olympic and Paralympic Games, it is extremely hard for a brand to gain cut-through, especially if you are a new sponsor like Lloyds TSB.
The bank's decision to focus on the Torch Relay as it made its way across the country and on local communities was a smart one and enabled Lloyds TSB to build on its existing brand positioning and to make the most of Facebook's photo sharing and tagging capabilities.
"How could this campaign have been improved? Its focus on community marketing, and especially schools' sports, could have been more greatly amplified through PR and perhaps some targeted advertising, as the latter has certainly become a big news story."
CAMPAIGN
Ian Darby, deputy editor, Campaign
"Facebook is a great asset for marketers looking to engage with communities and Lloyds TSB has tapped into this with its Torch Relay activity.
"The standout feature of the campaign is the photo-tagging option, which gets people involved in the Torch Relay and enables them to share it with friends. I liked the additional targeted local advertising on Facebook and the longevity of the activity - it has been running since May. I'm not sure the TV activity really contributed a great deal to this campaign, but the use of outdoor and press was effective enough.
"If Lloyds TSB can inject this much charm into the rest of its advertising, it may be able to stand out from competitors in a sector that is not currently best loved."