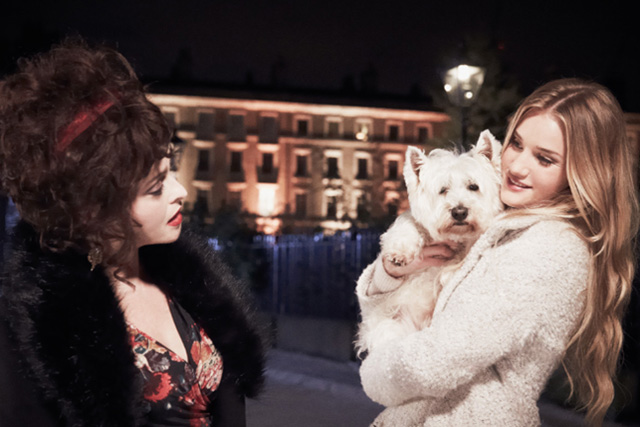 Background
Marks & Spencer chose to launch its high-profile Christmas campaign on social media for the first time, kicking off with a teaser for its highly anticipated TV spot.

The aim
To generate buzz before launching the TV ad and drive mass interaction and ad views.

The execution
During the festive season, M&S put social media at the heart of its marketing plans – using Facebook as one of the key platforms to launch its much-anticipated Christmas commercial and build excitement through a fully integrated campaign.
First, M&S posted a teaser clip of its TV ad on social channels, including Facebook, to build anticipation around its Alice In Wonderland-themed Christmas spot starring Rosie Huntington-Whiteley, Helena Bonham Carter and David Gandy.
Ahead of the first TV airing on the evening of 6 November, the brand used a Facebook reach block to deliver mass reach and engagement throughout the day – targeting all UK adults. The reach block was used to encourage customer interaction – asking people to vote on the name of Huntington-Whiteley's West Highland Terrier that featured in the ad – with the chosen name revealed on his collar during the weekend's episode of Downton Abbey. Around 130,000 people voted to name the dog, with Sparkle being the winning name.
Facebook then created a custom cluster of approximately one million of the most engaged users who interacted with the ad through likes, comments, watches and shares. M&S then ran sustained media targeted to these users over the following weeks, continuing right through to Christmas. M&S is one of the first brands to use a custom cluster in this way to re-engage people who have already interacted with its content, in order to drive even better performance.
The reach block delivered almost 20 million impressions, with approximately 70 per cent on mobile. The video was played two million times, through a mix of paid and viral views on the platform.
"We wanted to give people an extra reason to talk about our campaign," Julia Monro, the social media manager at M&S, said. "Hence adding the element of interaction and allowing Facebook users to effectively decide the final edit of the TV ad."
What the experts think
Facebook
Nicola Mendelsohn, vice-president, EMEA, Facebook
The Marks & Spencer campaign is a perfect example of a traditional retailer truly integrating Facebook into its media mix. M&S didn't just look to run its TV spot on Facebook – it came armed with an idea that truly took advantage of the unique engagement we see on the platform.
That engagement is only heightened on mobile, which puts brands right in the heart of the News Feed and allows them to stay top-of-mind during the busy festive period when potential customers are shopping on the high street.
With more than 70 per cent of impressions delivered on mobile, the result was incremental reach above and beyond TV and a significant increase in ad recall, according to Nielsen.
Media
Karen Blackett, chief executive, UK, MediaCom
Marks & Spencer won my vote over Christmas with its magical film and some very smart use of data.
On the morning that the TV campaign broke, it teased the film with a Facebook reach block to 20 million people, and promoted interaction by asking people to name the dog that appeared in the ad.
M&S was among the first to utilise custom clusters on Facebook in this way, meaning it could 'retarget' people who had liked, commented, watched or shared their initial post. What did this deliver? Around one million highly engaged potential customers to speak to throughout the Christmas period on desktop and mobile, helping grab much-needed share of mind in the busy festive period.
Campaign
Marc Lee, product manager, Haymarket Business Media
If a fairytale campaign borrowing a few themes and faces from classics of past was smart, then utilising a channel such as Facebook to take the audience along for the ride was a stroke of genius.
By allowing the audience to engage with the outcome of the ad, it drove both initial interest and a desire to share the campaign – the results of which speak volumes.
These results were helped by the clever use of targeting that Facebook offers with its products – with the specific custom clusters tool driving huge volumes. Marks & Spencer was fortunate to be one of the first to utilise this, and it paid dividends.
Besides, social media plus pets equals winner.