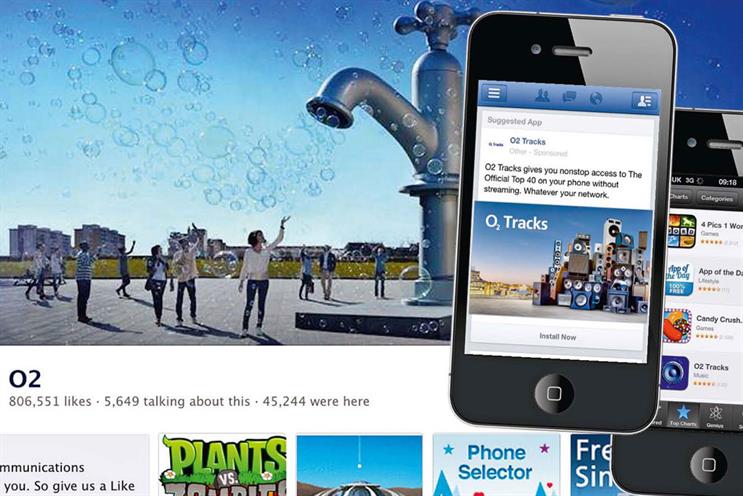 Campaign: O2 Tracks
Agencies: VCCP, ZenithOptimedia, MusicQubed
Platform: Facebook
Other media: None during the first three days of launch
Link: www.facebook.com/o2uk
Background
The telecoms provider O2 was looking for a rapid and wide-reaching ad strategy to drive awareness and downloads of a music app it launched in March. Working alongside ZenithOptimedia, O2 selected Facebook's Mobile App Install Ads to drive downloads of the app. O2 Tracks delivers the Top 40 chart directly to a mobile device. Following a two-month free trial for O2 customers (or two weeks for other users), it costs £1 a week. It is currently available on Apple and Android devices; BlackBerry and Windows Phone versions will launch soon.
The aim
Spread awareness of O2 Tracks to as many of O2's target audience as possible by leveraging the wide reach and targeting of Facebook's mobile platform.
The execution
In the UK, there are more than 26 million active mobile users on Facebook each month, with more people accessing the social network through their mobile devices than on desktop – making Facebook's mobile platform an attractive solution.
In a global first, O2 employed the innovative strategy of combining the effectiveness of a Mobile App Install Ad with the reach of a Mobile Target Block – a media buy that allows you to reach a pre-specified number of your core demographic over a three-day period.
O2's Mobile App Install Ad appeared in the news feed and allowed users to download the app with minimal interruption to their browsing experience. The Mobile Target Block ensured 100 per cent of O2's core demographic on Facebook (people aged 18-plus) saw its ad at least once in the first three days of launch.
Mobile App Install Ads also gave O2 more real estate (full screen) than standard mobile banner ads via what is arguably the most valuable real estate on the mobile web.
The three-day campaign reached 20 per cent of the UK online population (more than nine million people), propelling O2 to number six in Apple's App Store chart.
"We were really impressed that, by exclusively using Facebook Mobile App Install Ads, we were able to catapult O2 Tracks to number six in the App Store within a few days of launch," Paul Fabretti, the head of social media at Telefónica UK, says. "This was a great way to kick off our launch campaign and exceeded all our expectations."
What the experts think

Facebook
Christian Hernandez Gallardo, director, UK and pan-Euro, Facebook
"O2 had a great mobile app and it needed people to discover it. So it promoted it where people spend the majority of their time online on mobile: the news feed. The ads flow seamlessly in people's news feeds, but are impactful because they take up almost the whole screen.
"A great app that no-one can find is no use to anyone. O2 recognised this and leveraged Facebook to reach as many of its target audience as possible.
"Its use of Mobile App Install Ads within a Mobile Target Block was a smart way to launch O2 Tracks. Getting to number six in the iOS chart within three days, using Facebook only, shows the platform's power."
Media
Matt Champion, media services director, Fetch
"Promoting the O2 Tracks app via Facebook Mobile makes sense. Mobile Target Block fits well with brands that have very well-defined target audiences and, from a planner's perspective, the approach gets a blue 'thumbs up'.
"O2, as both a media property and customer database, has access to great data, so it's appropriate to use that wherever possible.
"However, the Top 40 will have a pretty broad appeal within youth/young adults, so it should be a success even without tight targeting.
"It's a scalable product concept, though – is there an 80s pop version?"
Campaign
Louise Ridley, senior reporter, Campaign
"O2 Tracks is a product that will get people dancing in the aisles, albeit more supermarket than church, as they shop while listening to the sounds of the charts on their phones. In other words, it's something that the target audience wants to know about – and share.
"Facebook's Mobile App Install Ads worked well to get the message out to consumers in eye-catching ads that appeared in their news feeds, just as would their friend's latest embarrassing photo. The app download was quick to access and allowed for a swift return to friends' updates. The use of Mobile Target Block, giving an average of one impression per user over three days, looks to have been a key element of the app's success."

Visit www.facebook-studio.com for more great work

Read more about Connected Campaign of the Month