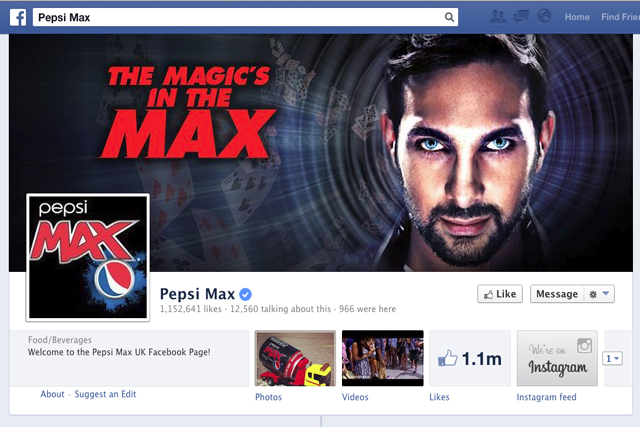 Campaign: Increase awareness of Pepsi Max's core values, "getting the Max out of ordinary life", and promote the soft drink in connection with the idea of "living for now"
Partners: Arnold KLP, OMD UK, Jaywing, theAudience, Inner Circle Films, Plan A
Platforms: Facebook, Instagram, Twitter, YouTube
Link: www.facebook.com/pepsimax
Background
Pepsi Max, one of the original no-calorie, no-sugar drinks in a fiercely competitive market, wanted to engage existing and new audiences with the key message at the heart of the brand and associate itself with the idea of "living for now".

The aim
Increase brand equity and consumer awareness by putting in place a daily publishing strategy to build a consistent social media presence and reach Pepsi Max's target audience at scale.

The execution
Pepsi Max's marketing team took part in a Facebook Publishing Garage, a three-day strategy session designed to look at the brand's core values, align on what it stood for and see how to bring that to life
on the platform. The team, its agencies and Facebook then created a daily publishing strategy designed to reach Millennials and increase brand equity by keeping Pepsi Max top of mind when they think of cool and innovative brands.
The brand teamed up with the magician Dynamo to film a viral video of him "levitating" alongside a bus as it toured London. "We asked ourselves: what's the best way of getting this stunt in front of everybody?" Aman Matharu, the digital marketing manager at Pepsi, said. "We know Facebook is a great platform for engagement, but my job is to plant the seed that Facebook is also a vehicle for mass reach."
The video was placed at the top of Facebook users' News Feeds using a News Feed Reach Block (desktop and mobile), reaching 18.7 million individuals. The brand chose Facebook's native player for its video over YouTube as, during the summer months, Facebook's reach on mobile remains consistent even when desktop audiences shrink. Pepsi Max then used ongoing Facebook media to maintain the momentum.
The result was 2.4 million paid media video plays, more than 600,000 organic views and more than 100,000 shares/likes. The campaign was also successful on Instagram, with the theme of "living for now" going hand in hand with the idea of sharing life moments.
"Over 23 per cent overall engagement rate and £0.04 cost-per-view blew the doors off all the engagement metrics we'd set. It's testament to the quality of the content we created, as well as the sessions we had with Facebook and our agency partners. Delivering three million views was, for us, a great test and we've pushed our learnings out to all PepsiCo brands," Matharu said.
What the experts think
Facebook
Derren Sequira, head of FMCG
"This is a great example of a brand combining the full range of Facebook's creative planning and advertising services into one co-ordinated campaign.
"PepsiCo has really understood that our unique delivery in people's News Feeds allows brands to reach the people that matter most to them, on any device and at a greater scale than any other media.
"The brand has used News Feed to get its content in front of the right people and help Pepsi Max stay front of mind in the summer months. Many brands are rushing to develop a 'mobile strategy', but PepsiCo understands that, if you're in News Feed, you already have a mobile strategy that reaches tens of millions of people in the UK."
Media
Darren Goldie, managing partner, digital, Havas Media
"A connected campaign needs to connect people, content and media seamlessly across devices.
"The Pepsi Max partnership with Dynamo shows the power of a simple performance in a shared Facebook environment, where the 'magic' takes centre stage and the reactions of onlookers motivate additional content-sharing.
"From the multiple perspectives of different tricks, it is a really immersive experience that resonates with the brand's 'live for now' philosophy and the impulse mechanisms of beverage sales. It provides Pepsi Max with a modern and surprising differentiator and will provide a wonderful platform for more interactive media in the future."
Campaign
Danny Rogers, editor
"From 'planking' to 'owling' to 'batmanning', we know that the popularity of photos featuring people pulling impossible or inappropriate poses is considerable.
"So filming Dynamo levitating as he travels around London, alongside a bright red double-decker bus, for Pepsi Max is a masterstroke.
"The content for the campaign is eye-catching, it's provocative and, above all, it's visual. Facebook has many strengths as a media platform, but this reminds us that it is still a great visual showcase.
"It's a double whammy because visually strong content works well on mobile too. Top marks to Pepsi Max and its publishing strategy for ensuring it has the right content and enough of it to take full advantage of this."