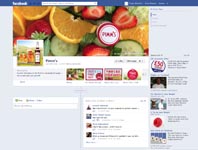 Campaign
Pimm's o'clock
Agency
Carat
Platform
Facebook
Other media
TV, out-of-home, print, experiential, other digital activity
Links www.facebook.com/pimmstime; www.anyoneforpimms.com
BACKGROUND
People talk about Pimm's when the weather is good. Diageo, its owner, wanted to take advantage of events such as the Jubilee and the UK sporting summer to start more conversation about its product when the sun was shining. Diageo used Facebook to engage with consumers around related content and conversations and become part of people's summer stories.
THE AIM
Diageo wanted to engage and connect with existing Pimm's drinkers, as well as gain new fans on Facebook.
THE EXECUTION
The campaign was effectively "thermally activated" by Carat, Diageo's UK media agency. From 20 March, summer-themed content was published on Facebook. It also launched ads to bring this content to a wider audience. The platform's digital nature meant it could react quickly to improvements in the weather and support Pimm's TV advertising and other marketing activities.
Content ranged from encouraging fans of the brand to post photographs of themselves enjoying Pimm's to recommending good places to consume the drink to suggestions for Pimm's-based cocktails. Sharing recipes and practical ideas worked well, as well as simple "Pimm's o'clock"-themed posts.
Pimm's ran ads on the right-hand side of the Facebook homepage and in fans' news feeds (on desktop and mobile) to amplify their message. The brand also purchased a female-targeted reach block during the Jubilee weekend - this meant the target audience exclusively saw Pimm's ads on their home pages for 24 hours for their first few impressions.
Facebook gave Pimm's a perfect platform to leverage its biggest advocates and broadcast its messages to a broader audience -both with regular posts and carefully timed advertising. The Pimm's brand saw a 40 per cent sale uplift during the Jubilee.
Chris Lock, the category marketing director at Diageo, explained: "Our aim for this summer was to trigger our fans' love of declaring 'It's Pimm's o'clock' to their friends when the weather was at its best and during all the great British celebrations. Facebook provides a great platform to do this."
WHAT THE EXPERTS THINK


CREATIVE
JOHN MONKS, HEAD OF SOCIAL BUSINESS DESIGN, LBi
"The campaign is a great example of the timeline being used to striking effect: the images convey some of the spirit of summer and support the Pimm's identity.
"The Holy Grail for brands on Facebook is to drive numbers - the timing of posts to coincide with times and events was great and certainly lifted the numbers for the brand. The community, too, was nurtured: over the summer, the timeline developed a personality that feels authentic and that rewards its members with a clever mix of real-world goodies (recipes, vouchers etc) and recognition ('likes', posting their photos).
"This platform can now be driven further with greater levels of interaction with the user-generated content and support for the real-world events that the brand is encouraging."
MEDIA
SUE UNERMAN, CHIEF STRATEGY OFFICER, MEDIACOM
"What can Facebook do for Pimm's? It can give a way for the brand to reward and motivate Pimm's lovers to drink more Pimm's, more often, and to spread the word about it to new drinkers. Occasion-based activity has delivered against this nicely (weekends, bank holidays etc).
"The promotional element is a good thought too, offering discounted party products to fans. Pete Fyfe, our head of social media, thinks this could have been expanded 'to include discounted summer experiences, or access to other events that are synonymous with British summers to deepen that connection even more'. The more useful and interesting you are, the more memorable you are. The more memorable you are, triggered by the right associations, the more you sell of the product."
CLIENT
ANDREW WARNER, SENIOR MARKETING DIRECTOR, EMEA, EXPEDIA
"It's not necessarily easy to do but great content can be a shortcut to marketing success, particularly on digital platforms and on social media.
"The challenge is bigger for some brands such as Pimm's, as they aren't obviously content generators.
"So pushing an association with Pimm's and summertime and this event-packed summer is smart. It plays to the near-real-time updating and sharing of content on Facebook, too.
"You might think that a campaign dependent on the good old British summertime weather would involve disappointment. In a way, it doesn't. I suspect the great British public generate as much, if not more, content when they have something to moan about. It also gives them a reason to drown their sorrows."
CAMPAIGN
SARA KIMBERLEY, ONLINE EDITOR, CAMPAIGN
"It was carefully targeted and showed brilliantly how brands can interact with Facebook users by creating a fun experience.
"Encouraging users to share and create new Pimm's recipes and photographs was a great way to engage people.
"However, a further integrated experience could, perhaps, have been created if, for example, Pimm's offered the most 'liked' recipe, alongside its creator, the chance to appear in its next TV ad.
"This would have encouraged users to galvanise attention around their cocktails among their friends on Facebook."
To see more great work, visit www.facebook-studio.com