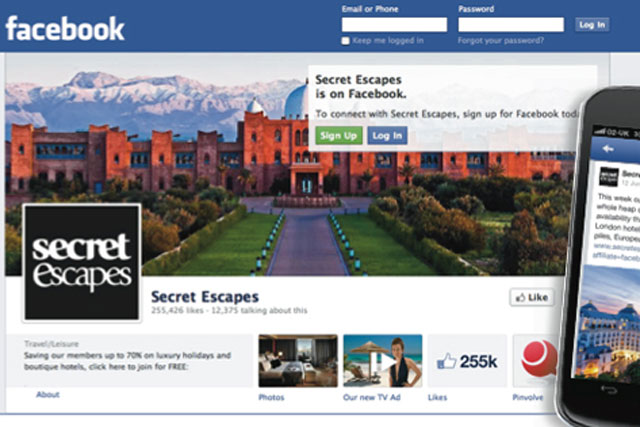 Campaign: Ongoing customer acquisition and website launches in Sweden and Germany
Partners: Greenlight, AdParlor (Facebook Preferred Marketing Developer)
Platform: Facebook
Other media: TV and Google AdWords
Link: www.facebook.com/secretescapes
Background
Founded in 2010, Secret Escapes is a rapidly growing membership travel website, with more than 3.5 million users in the UK. It negotiates exclusive discounts on hand-picked luxury hotels and holidays, then shares these with members via regular e-mails and on Facebook.

The Aim
Secret Escapes wanted to continue acquiring members in the UK, and to expand to Germany and Sweden.

The Execution
The brand started off by running Page Post Link Ads on Facebook, driving users to its website to sign up. It was able to achieve even better results by moving its ads from the right-hand side into the News Feed – where people are the most engaged. Emotive, scenic pictures of hotels and resorts strengthened the company's image as an exclusive holiday brand. Secret Escapes has been using Facebook to acquire customers on an ongoing basis but recently started working with a Facebook Preferred Marketing Developer, AdParlor, to scale its activity.
Custom Audiences uses information on Secret Escapes' offline audience to reach that same audience on Facebook. Then Lookalike Audiences allows the brand to also find new, similar audiences there too.
Using Lookalike Audiences to reach those with similar characteristics to its existing customers increased click-through rates on Secret Escapes' ads by 134 per cent and boosted acquisition volume and search sign-ups, which rose by 105 per cent. Targeting specific audiences brought the lifetime value of acquired
customers close to that of customers acquired through Google paid search.
By using these tools and working closely with AdParlor, Secret Escapes was able to scale its Facebook activity to match its rapid growth.
"We have been working with Facebook and AdParlor to increase our presence on mobile devices throughout the summer months. To date, running mobile specific campaigns during the summer period has seen an 85 per cent increase in CTR with a 20 per cent decrease in CPCs compared to campaigns targeting desktop," Gareth Griffiths, the head of digital marketing at Secret Escapes, said.
These results have driven the brand to triple its spend on Facebook.
"We started 2013 with search pay-per-click and brand-response TV advertising," Tom Valentine, the managing director and co-founder of Secret Escapes, said. "We're delighted we've been able to add paid Facebook advertising as a third key pillar."
What the experts think
Facebook
Rick Kelley, director of EMEA sales, Facebook
"It's great to see Secret Escapes leveraging News Feed and our targeting products to reach the right people in a way that's timely, relevant and at scale.
"Secret Escapes' test, iterate and scale successes approach to marketing on Facebook, combined with working with a Facebook Preferred Marketing Developer, has helped maintain rapid business growth. While the wider media market tends to experience reduced circulation and viewing figures across the summer, Facebook's reach on mobile remains consistent. So it is a perfect time for brands to take a leaf out of Secret Escapes' book and use Facebook to reach all the people who matter to them – no matter where they are."
Media
Steve Taylor, head of digital strategy, PHD
"Secret Escapes demonstrates how to write brilliant content for the News Feed. The images used are stunning, and never fail to grab my attention. Excellent content for promoted posts, drawing users in and setting them on the journey to website sign-up. The brand generates a lot of natural buzz on the platform with a higher proportion of 'people talking about this' than EastEnders.
"Sharing your luxury holiday aspirations with your friends builds identity, while letting them in on the 'secret deal' brings kudos. Secret Escapes capitalises on this by using custom and lookalike audiences to find exactly the audience most likely to want to know about the brand and share their discovery with their friends on Facebook."
Campaign
David Grifith, head of digital, Brand Republic Group
"Discussion and the sharing of holiday plans is a regular topic of social conversation (at least in my circles) and can, of course, present opportunities to travel companies seeking to capitalise on this via Facebook.
"Secret Escapes has been really successful in using content, imagery and Facebook's audience acquisition tools to do this, with the brand's number of 'likes' already ahead of the traditional and larger travel companies.
"It's also good to see that the brand has continued the Facebook presence on its actual site – with users who want to sign up to its service able to do so via their Facebook login."