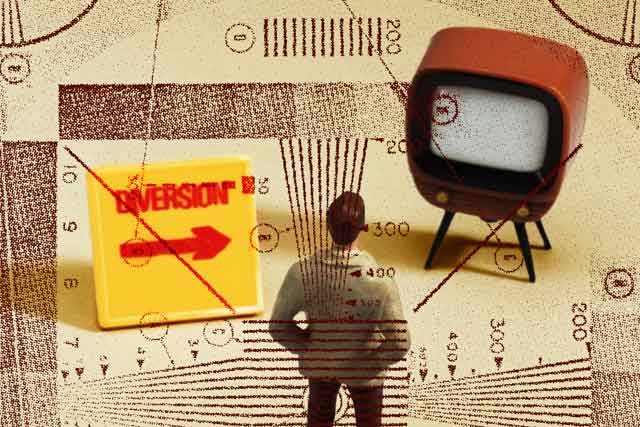 We've been here before. This year ... drum roll ... it's the year of ... connected TV. But what is it: the next "game-changer" and "televisual revolution" or another over-hyped gamble for brands? Let's look at the facts. Last year, nine million TVs were sold in the UK, of which roughly three million offered some form of "connected" technology (70 per cent of Samsung's TVs were connected TVs) - but only half of those who have connected TVs have ever bothered to "connect" and only half of those who have connected do so on a regular basis.
Haven't we heard this before?
Wasn't interactive TV the future a decade ago? Much like the false dawn of mobile internet at the start of the century, developments in both technology and the way people use it have suddenly hit a tipping point for the humble TV.
So what's all the fuss about?
What does connected TV mean and, more importantly, what does it offer the consumer? Simply put, it's the joining of TV with the internet to create new services and screen experiences. In practice, it means connected TV sets have the ability to connect to the internet and (to varying degrees) offer a wide range of web content on your TV screen.
This will include a range of content apps from players such as Netflix, Hulu, Blinkbox and YouTube - which will each offer both longand short-form content.
Then, of course, the BBC, ITV, Channels 4 and 5, TalkTalk, BT and Arqiva are launching YouView, a set-top box expected to cost £200 (if it ever launches!) combining broadcast and broadband content.
Meanwhile, Sky has announced the launch of its own internet TV service, which will be available to people who don't subscribe to a pay-TV service and allow them to catch up and receive premium services. And Google and Apple are making set-top boxes and TVs to bring new services to the big screen.
There will also be new "companion" apps on mobiles and tablets (Zeebox, Umami), which will provide a "second-screen" experience for social interaction, additional information, programme participation and even shopping options to complement the main-screen broadcast.
Why is it significant?
It could be a TV-viewing revolution. People are watching more TV than ever before, but they will be watching it in a different way - on demand, socially and web-connected. It is such a radical change for consumers, and brands need to get in on the action.
Connected TV will influence the content provided and its funding. It will also impact on which advertisements you see, how much content owners and advertisers know about you, how you decide what to watch, how you interact with what's on, and how TV experiences are monetised.
What are people doing already?
A straightforward early attempt by Mark & Spencer, via the M&S TV channel, provides viewers with a large library of product videos - in essence, an on-demand catalogue. But this content-aggregation approach does offer brands more interesting ways to engage with content. Imagine a DIY retailer offering how-to videos linked to a shopping-list app on a smartphone, or a film distributor showcasing new releases in all their large-screen glory linked to ticket sales - all in the same place.
Companion app opportunities appear very fertile too. The RBS 6 Nations Live Challenge app provides information and news as well as inviting people to play a predictions game before matches, then keeps them updated during and after - a great way to increase brand facilitation and engagement.
What does it mean for brands?
Well, first, they'll need to start experimenting now if they're to make sure they understand the new landscape and how it can be made to work for them - be it data-gathering, driving PR and engagement, a different type of brand experience or, ultimately, the sell.
How might brands participate or contribute to the ecosystem?
The possibilities are extensive, but three areas where brands could effectively contribute immediately spring to mind - the three Cs.- Curate content In a world of over-choice, it becomes more difficult for consumers to accidentally stumble across content perfect for them. It has to be introduced - a managed discovery, where someone who knows what you like and you respect (ie. a brand) suggests content for you to consume. Real "giving something back"-type behaviour for brands - be it a mobile brand offering a particular genre of films, or a food brand packaging up great culinary content.
- Create content
More time-consuming and risky but just as relevant - create something that your customers want. Foster's is in this mode at the moment with its recent "Foster's Funny" Fast Show episodes.- Companion Offer something on a second screen that complements and enhances the broadcast experience. In a world where consumers are watching more TV and big live programme events capture the imagination and participation of viewers more and more, brands offering something extra will benefit. Zeebox, a social TV app, is inviting brands into the social TV space, where they be can part of an enriched world, offering information, participation and even the opportunity to precisely target messages to direct sell off the screen.
Connected TV, social or otherwise, will have dramatic implications for commercial players as well. It can offer powerful insights into how people view, offering broadcasters real-time access to programme viewing; it will make live viewing even more powerful and demanded as viewers won't want to miss the social nature of the viewing experience that time-shifted viewing prevents. It will offer a fabulous way to test different copy to known, different audiences and will be a boon for data junkies irrespective of their discipline due to its data connection to Facebook and the like.
So, it's here, it's new and, this time, it means business. While consumers have yet to engage en masse and the battle for platform dominance is still to play out, it's time to play and learn ... and connect.
Pete Edwards is the chief strategy officer at Engine.