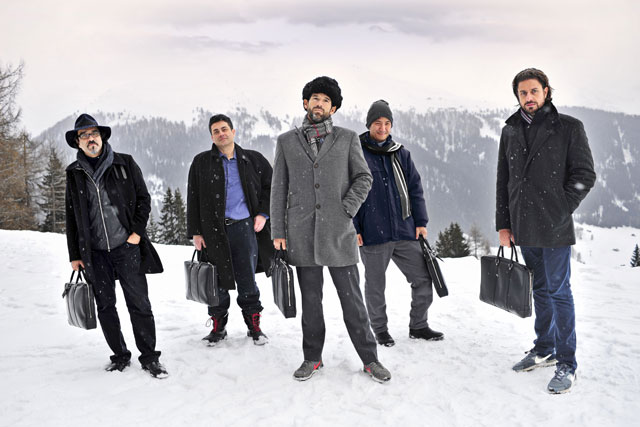 Connectedness. Intimacy. Shared Experiences. Interactivity. These are all keys to long-term relationship success. Not only amongst individuals, but when it comes to kinship between brands and individuals, too. From Dove to Marks & Spencer, to now Louis Vuitton, brands are looking to create this kinship between its role models and the consumer.
In a move away from perfect models such as Angelina Jolie, Louis Vuitton recently launched a line-up of brand ambassadors via its website – a group of men at the World Economic Forum. It includes Lourenço Bustani, the man leading the cultural planning of the Brazil 2016 Olympics; Atiq Rahimi, a French-Afghan author and movie director; Tom Reiss, whose biography 'The Black Count' about the real Count of Monte Cristo has won the Pulitzer; political consultant Felix Marquardt, and Dr Gino Yu from the Hong Kong Polytechnic University.
Brands have always needed to inspire us, make us aspire to achieve something that seems beyond grasp.
The new Louis Vuitton campaign marks a milestone – an exclusive brand evolving into a completely different type of fashion advertising, adding extra layers and depth to the brand. Its appeal might not be universal, but neither is the brand. Its simple brand truth lies in its elite exclusivity.
The authenticity of the communication, its ability to connect the stories and values of real people with the brand values and attributes, mirrors our work on M&S; where our 'Leading Ladies' campaign showcased role models as diverse as campaigner Baroness Lawrence, engineer Roma Agrawal, TV chef Rachel Koo and Oscar winner Emma Thompson, and reflected the diversity and substance at the heart of the M&S brand.
Brands have always needed to inspire us, make us aspire to achieve something that seems beyond our grasp. And those that manage to do just that are brilliant and compelling storytellers who understand how to get people get talking about you or how to become part of the popular culture.
This is something that Dove's 'Real Beauty' campaign taught us with great aplomb, when it managed to create a brand that is now associated with social change. Of course, critics will be quick to point out that what Dove is doing is perpetuating what beauty brands have always endorsed – what is most important about women is how they look. But they are missing a point. That authenticity is replacing product pitches when it comes to building sustainable brand relationships.
Using real-life people cannot become a short-hand for a brand that is authentic
After all, the best-loved brands are all aiming to achieve higher resonance with their audience. If this audience is demanding that they connect with the brands directly they buy into and hear their message in an authentic voice, advertising has to evolve.
M&S, Dove and indeed Louis Vuitton are fine examples of that. They are in the business of creating brand advocates worldwide. With it also comes the great responsibility of embracing and empowering the brand advocates and the values they stand for. Using real-life people cannot become a short-hand for a brand that is authentic.
It has to be about undisputed integrity, about the brand living and breathing originality and truth. Like the M&S approach – its retail experience, its design and certainly its communication drives that truth; or the P&G Thank You Mom campaign, which aligns itself to the spirit of the Olympics; or the truth about the new Louis Vuitton ambassadors at the gathering of the global power elite, which is about luxury and exclusivity.
These are all brand truths in the context of how they relate to their audience using inspiring role models and real personalities to successfully build a kinship between the brand and its consumer.