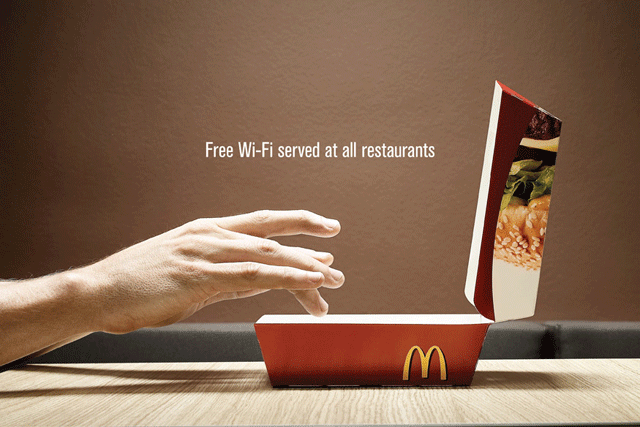 Everyone's at it: McDonald's was the first big fast-food chain, Pret A Manger has been doing it since 2008, and now John Lewis has joined other recent entrants, PizzaExpress and Starbucks in offering it: free wi-fi for customers.
The move certainly appears very tech-forward, but what's actually in it for the brands?
For sandwich and coffee chain Pret A Manger, it is obvious: customers view access as an essential. According to Carolyn London, head of marketing at Pret: 'People now need the reassurance that they (can) connect to the internet wherever they go ... even just for looking at Facebook.'
Appeasing customers is a fair reason to introduce any new service, but offering free wi-fi also ties in with a greater business strategy for many companies.
For McDonald's, which became the first business of its kind to offer wi-fi across all its stores in 2007, it fitted in with major changes being made as it shifted its positioning from 'burger joint' to something more upmarket.
McDonald's head of IT, Mark Fabes, explains that 'investing in free wi-fi was just one of the ways we upgraded our customers' experience', along with adding new coffee machines and expanding the menu.
PizzaExpress' decision to offer free wi-fi, starting in June this year, coincided with its launch of an iPhone app via which users can download vouchers, book tables and even pay for their meals - useful if a restaurant is busy and you are in a rush to leave.
'It made sense to make sure that all our customers could use the app in our restaurants, even if the 3G signal is weak,' says Becky Farrer, head of brand innovation at the restaurant chain. 'Also, customers now expect free wi-fi access.'
Introducing wi-fi may not necessarily drive hordes of new customers into branches, but Farrer says its importance lies in 'adding value to the customer experience'.
In the case of John Lewis, the strategy behind offering wi-fi in its department stores goes beyond simply giving customers access to Facebook.
First is the simple matter of using it to collect customer email addresses, which is how people will access the service. However, it also ties in with consumers' shifting shopping habits.
Simon Russell, head of multichannel at John Lewis, says: 'The way people shop has altered over the past two years and there is quite a change ahead.'
He explains that smartphone users often combine in-store shopping with online research, using the web to check competitors' prices as well as local store information and collection points, according to the retailer's research.
Adding free wi-fi to its stores also ties in with the expansion of its price promise. Last year John Lewis updated the terms of its 'Never knowingly undersold' promise, saying it applied not just to other high-street shops but to any of the prices advertised on websites owned by its 'clicks-and-bricks' rivals (the likes of Currys and Dixons, but not Amazon and eBay).
The announcement of the addition of free wi-fi to its stores comes ahead of the launch of a John Lewis iPhone app that gives easy access to its online offering, product reviews and even video.
'In the future, mobile use is only going one way. We see mobile as the glue that pulls together the online and in-store experiences,' says Russell.
WI-FI WHAT TO CONSIDER
- Reliability and a secure network are the two key points, so it is important to choose a reliable wi-fi supplier that offers the latest security features, not the cheapest one.
- Consider limiting the times when people can use their laptops if you are concerned about the atmosphere it creates. At London's Southbank Centre Members Bar, people can treat the space as an office during the day, but there is a dedicated tech-free zone. At 6.30pm, all laptops must be put away as the bar gears up for the arrival of concertgoers.
- Make sure that people know the wi-fi they are using is yours - there is little point in providing it otherwise. PizzaExpress has table talkers, for example, or your could try branding the name of the wi-fi.
O2 BRAND CONNECTION
O2 is investing heavily in its offering and aims to be the biggest supplier of free wi-fi capability to businesses by 2013.
Gavin Franks, managing director of O2 Wifi, points out that not only does a free service increase customer dwell time, but it allows venue-owners to engage with customers on a deeper level.
'Imagine if "Steve" comes into or near your restaurant and connects to wi-fi,' explains Franks. 'You know he is nearby and has signed up to receive marketing from O2 partners, so you automatically send him a text that gives him an offer or discount for your restaurant. You could even push him a game to play over lunch to keep him entertained while he waits for his friend.'