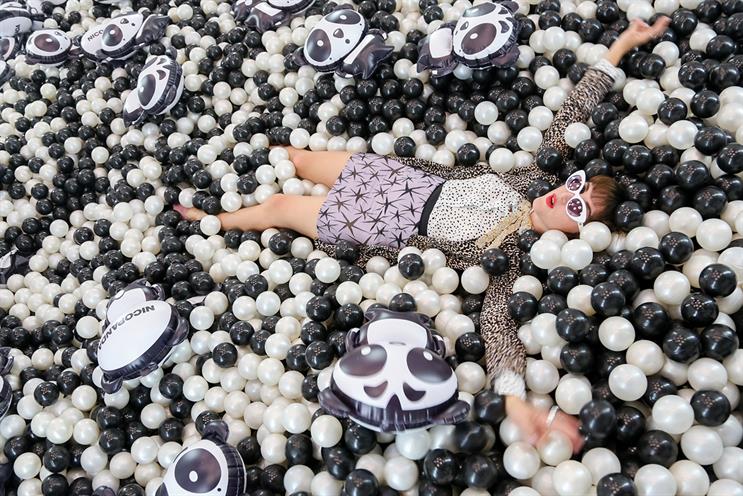 Twelve years ago, Piera Luisa Gelardi was a recent art-school graduate with a big idea, setting up her own fashion shoots on the streets of Brooklyn. Inspired by New York culture, she launched women's fashion website Refinery29 along with Philippe von Borries, Justin Stefano and Christene Barberich.
They started by creating an interactive map of 29 independent boutiques, which resembled the floor plan of a shopping centre. Gelardi recalls visiting the shops and photographing their merchandise and customers.
"What really took off about Refinery29 was focusing on personal style and celebrating individuality," she says. "We tapped into this millennial mindset which didn't have a name yet."
Refinery29 has since expanded from covering fashion to "360 degrees of a woman's life", Gelardi explains. It has a global audience of more than 500 million and has launched in the UK and Germany. Since opening its London office in 2015, Refinery29 has seen more than 600% growth in UK-based unique users.
In 2015, WPP's investment arm, WPP Ventures, and Scripps Networks Interactive made a $50m investment in the site. It has to date raised $125m from investors including WPP, Hearst, Turner, Scripps Networks Interactive and Lerer Ventures.
The brand is increasingly focused on licensing (including a recent deal to show video content on Sky Q) and live events. Its 29Rooms installation – "an immersive fun house of art and technology" consisting of 29 rooms showcasing artists' work – will roll out for the third time in September for New York Fashion Week.
As executive creative director, Gelardi oversees branding, design and creative development, and leads the creative teams and cultural initiatives for staff. She says her role has evolved from a one-woman show to a "conductor of an orchestra figuring out how to inspire creatives in multiple cities". She talks to Campaign about how she motivates her team and shares her lessons from starting a creative business.
What advice do you have for other creative entrepreneurs?
Finding the right partners is key. I tried to start something before Refinery29 and it didn't work because my partners were too similar to me and we had the same skillset. Have clear roles and responsibilities for you and your partners.
Creating a strong brand, knowing what your mission is and what you stand for is the most important thing – and also knowing that mission can evolve. Twists and turns in the path are normal and instructive. You learn so much from doing experiments and failing. I can't stress that enough – to stay curious and ask questions. What allowed us to be successful is we knew what we didn't know and weren't shy about seeking out people to guide us.
Where do you turn for inspiration?
Steve Jobs said creativity is about connecting the dots. For me, that works when the dots are from drastically different places. I rarely pull inspiration from competitors but, instead, from other industries and parts of the world because it can create something really interesting.
Core to the brand from the beginning has been discovering emerging talent and giving a platform to new voices. I find tons of creative people on Instagram and go into these Instagram rabbit holes. I try to keep my antennas up – going to gallery openings, through word of mouth or using our network to find talent.
How do you keep your team inspired?
I hold a creative meeting every month where I talk about our vision and showcase things we've tested and learned. We have a gratitude section where people call out others who have helped or inspired them. I celebrate work that's evolving our brand. We stream the meeting live for our UK and Germany teams.
I also have a regular brainstorm session called Peach Pit (my name for my office) – anyone in the company can come. The intent is to be fun. I pull inspiration from improv and look for ways to make the environment welcoming for those who don't necessarily think of themselves as creative. It's been a great way to connect with different people and ideas. What differentiates us is we're a forest of voices; we hire people who are passionate and have so many interests of their own.
I see my role as the host – I want to bring the best out of people.
What do you do when you're in a creative rut?
I'm very social so I will try to see if someone who I have a good relationship with can come and sit with me. If I have to be creative on a deadline and I can't think of anything, I'll open a magazine and call out words that stand out to me. I love doing word association and surrounding myself with visual inspiration.
When you get into a rut, you get obsessed with that rut and wind yourself tighter when, actually, you need to shake loose. For brainstorm sessions, I do a physical improv warm-up where people shake – the goal is to let out inhibitions and also be silly because humour brings out good ideas. It's important to get out of your head.
Latest inspirations
Each month, Gelardi sends an email to Refinery29 employees with nine pieces of inspiration. Here are a few things on her radar right now.
The S-Town podcast from the team behind Serial and This American Life
Impressionistic photography.
Late 1960s/early 1970s illustration, as embodied best by Peter Max.
Piera Luisa Gelardi will speak at the D&AD Festival in London on 26 April.