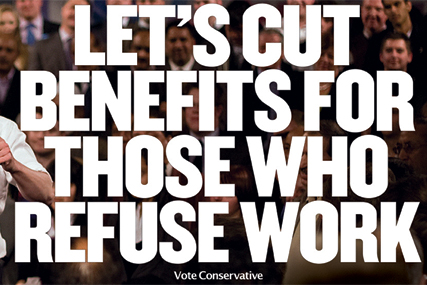 The ads are dominated by copy in white type over a colour picture of Cameron addressing an audience.
In one, the slogan reads "Let's cut benefits for those who refuse work" and in another it is "Let's stop Labour's jobs tax".
The posters will go up on 500 sites in target seats on Monday.
A spokesman said: "These posters are part of our positive campaign to show the public why David Cameron and the Conservatives have the right values, leadership and energy to get Britain moving again."
The ads return to the focus to Cameron after an earlier campaign by M&C Saatchi that criticised Labour prime minister Gordon Brown's record.
Yesterday it emerged the Tories' election was was boosted by £1.45m of donations in the first week of the election campaign – twice as much as Labour received.
The Liberal Democrats received only two donations worth a total of £20,000, but these were made before the first television debate sparked a surge in the party's credibility.
Join the election debate on Brand Republic's The red, yellow and blue blog.
Read more on Brand Republic's digital blog The Wall
Labour puts manifesto on iPhone app ahead of second leader debate