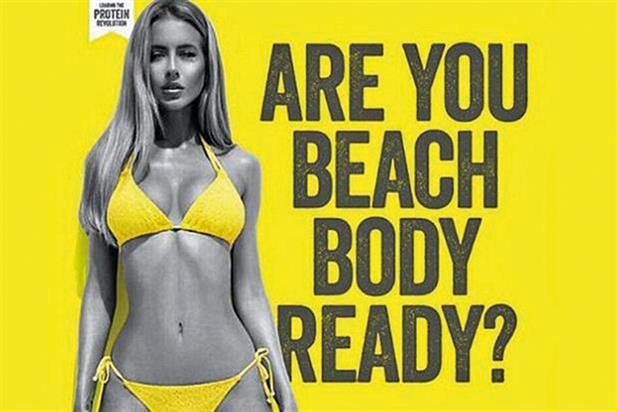 She criticised brands that deliberately courted controversy by creating shocking or outrageous ads designed to generate media coverage without paying for the ad space.
Nokes picked out the Protein World ad in particular: "I loathe the way women are represented in some advertising. Ads that are shown simply to shock and provoke the reaction make my blood boil. We need to encourage women to feel good about themselves."
She was on a panel led by ITV News anchor Tom Bradby with Labour MP Chi Onwurah and SNP MP Hannah Bardell.
Nokes also criticised government and political communications campaigns. She said the advertising industry can be "creative and imaginative" and can help governments to communicate with the public to create behaviour change.
But, Nokes added: "the ads that governments run – sometimes they are really clunky. Maybe we're not harnessing the creativity of the advertising industry."
When asked by Bradby whether she could find a government ad she liked, Nokes said that not only could she not pick out one she liked, she would be "hard pressed to sit through one."
The panel discussed other issues, including advertising's social responsibility.
Labour's Chi Onwurah said adland has a responsibility to produce advertising that reflects society, but that it needed to be more forward-looking about social trends to avoid getting stuck in outdated perceptions.
Onwurah said: "It's important the industry looks to reflect the changing demographic makeup as well as looking forward to how things are going to change in the future."
She added: "Pink is a fantastic colour – but when it is the sole colour used to market to women and particularly girls and it's then identified with cooking and dolls and that becomes the careers girls aspire to, it changes society.
On the issue of regulation, Nokes said she was "not a huge fan", but both the SNP and Labour MPs were in favour of some type of regulation.
SNP's MP Hannah Bardell said: "I have questions around self-regulation and not sure it's doing enough."
Onwurah, who has previously worked at Ofcom as head of telecoms technology, said: "The British model of self regulation is hard to explain to other countries – they see it as a cosy cartel. It can and does work where there is a strong regulator ready to step in."
Regarding efforts to reduce the amount of sugar that people eat, Onwurah said: "The market isn't going to drive it to make a step change that we need. We need regulation on this issue, but legislation tends to be very broad and can drive certain outcomes. We need to work together."