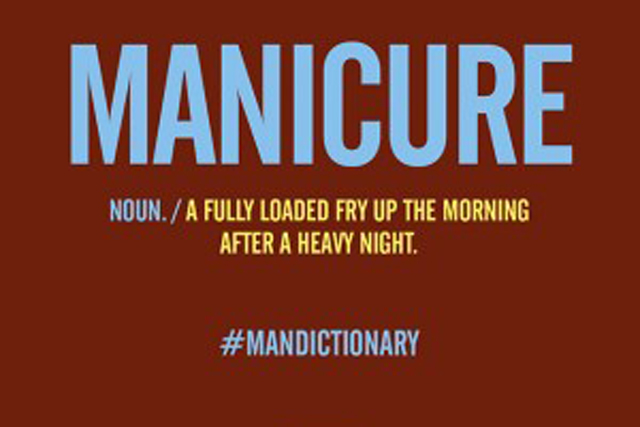 CALM and its agency Theobald Fox are encouraging people to tweet their suggestions using the hashtag #Mandictionary. Suggestions so far include "emancipation", "manicles" and "Mandela".
The campaign has been devised to raise awareness of male suicide - 12 men commit suicide every day in the UK - and broach the subject of male depression in a manner that breaks through stigma with humour and positivity.
Winning submissions will be used in ads, as well as the #Mandictionary itself; although it has yet to be decided what form the finished tome will take.
The campaign is being promoted on Twitter, Facebook and Instagram, while posters sites will also carry the ad. CALM's website is carrying a gallery featuring an array of people's suggestions.
Client: Rachel Clare, assistant director, CALM
Agency: Theobald Fox
Mandela - to stand up for what you believe in, showing courage and dignity in the face of extreme adversity. #mandictionary @theCALMzone
— Chris B (@CRS_Bishop)
July 2, 2014
MASKEDMAN: (Noun) A disguise worn by men to cover up feelings of unhappiness or doom. @theCALMzone #Mandictionary pic.twitter.com/7wLw4qgx8R

— Ceiling Demons (@CeilingDemons) July 1, 2014
Manwell: A state of bouncing around feeling altogether pretty chirpy, akin to the Barcelona-born 70's sitcom waitor namesake. #mandictionary

— Fabio Zucchelli (@Fabzucci) June 27, 2014

Emancipation (noun) - the process of freeing your mind from depression and living each moment in the present. #mandictionary @theCALMzone

— Chris B (@CRS_Bishop) July 2, 2014
Amen (n. plural.) The men you'd take a bullet for, who are always there for you, always listen, never judge. #mandictionary @theCALMzone
— Eddy Temple-Morris (@eddyTM)
July 2, 2014
MANTRA (n.) It's ok to ask for help...It's ok to ask for help...repeat as needed. #mandictionary @theCALMzone

— Clare Whitby (@ClareWhitby) June 30, 2014
Manhole cover : Any form of underwear / trunks, but not speedo sling #ManDictionary @theCALMzone

— I'm deleting you (@Nowisinsideout) June 27, 2014