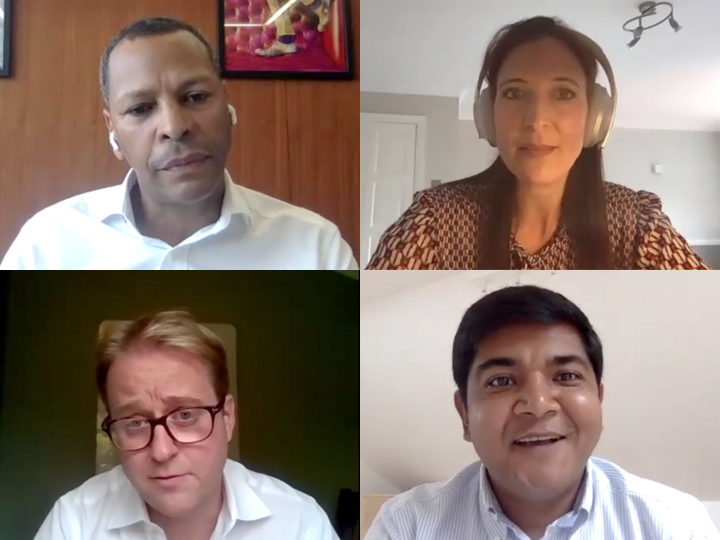 "If we are seeing the lies being disseminated at scale through news sources," says Facebook's Nick Baughan (bottom left) "then we look to reduce that incidence in the feed" – but Facebook won't reprimand users for posting porkies…
He was speaking at Campaign360 during a session, in partnership with LiveRamp, called 'In media we trust? Data, targeting and regulations in media post-2020'. 
"So we have very clear lines between what is against community standards, which comes off, and what is deemed to be false by fact-checkers," he added.
Twitter's Manoras (pictured) concurred, explaining how the platform deals with misinformation using both policy and product, how "we might add context because we don't believe we should be the arbiter of truth".
She added: "We also don't necessarily believe it should be a binary argument of keep it up or take it down, and actually there are potentially better ways of dealing with public figures, politicians, etc. who might put out misinformation." 
Twitter's measures to combat untruths include the addition of contextual labels that will "add a label saying 'get the facts about x, y or z topic' and label it, because removing that distorts the historical record and it prevents people from being able to engage and debate and challenge". 
Baughan and Manoras were joined on the virtual stage by Dominic Carter, group chief commercial officer of Times and Sun publisher News UK, and Vihan Sharma, managing director of adtech company LiveRamp Europe.
The panel used the session to examine issues of data, privacy and the notion of a cookie-less future.
Learning from history

Comparing today to the past, Sharma (pictured) was largely positive about the efforts being made to instil greater transparency around data use and privacy.
"If you go back 10 or 15 years, when you look at cookies, people were confused as to what data they were giving, how it was being used," he said. "There was a significant perception that the data is somehow being misused.
"Today, what we are seeing in the market is brands being more proactive and trying to build out their own first-party data strategies where they are clear that the data is being used for targeting and measurement, or improving customer experience."
But, there are indicators that seismic change lies ahead for digital advertising, with Google planning to prohibit cookies on Chrome and Apple planning to launch iOS 14 with less ability to track IDFAs (identifiers for advertisers). Such moves point to a cookie-less future.
"There are three parts to this," Sharma said, "Google and Apple deciding that they don't want the industry to have access to any sort of tracking mechanism. I think it's done out of the consumer privacy lens. However, it has far-reaching consequences for publishers, for consumers as well."
Closing the jar
But he highlighted that industry-wide efforts are being made to ensure a "viable alternative to the cookie", an opportunity for adtech to "upgrade itself and have an infrastructure that's based on people-based identify that allows brands as well as publishers to have a much better relationship and one that is similar to what the Facebooks and Googles have with their consumers".
He added: "If you look at where we believe the future is going to be, it's going to be better targeting because although cookies have been massively used, they are actually a proxy for the consumer. You are actually targeting a device, communicating with a device rather than an actual individual."
News UK's Carter (pictured) echoed his point, saying that in the long term, the industry must "work together a lot better to create a more democratised and persistent identifier". 
"There are good examples of it in Germany with netID Foundation where you can use the same identifier to log into your bank account as you can to log into your publisher of choice. The industry in the long term has to ask that. But the world's definitely going to change from cookie-chasing someone around the web."
As the leading data connectivity platform powered by core identity capabilities and an unparalleled network, LiveRamp enables companies and their partners to better connect, control, and activate data to transform customer experiences and generate more valuable business outcomes.