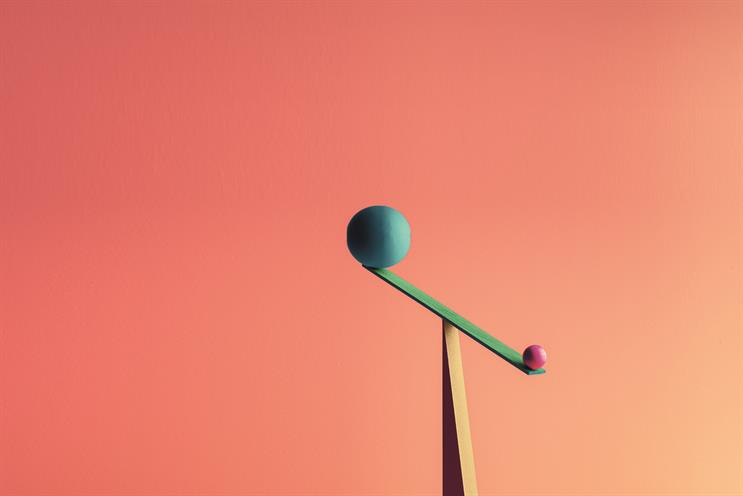 Once upon a time, in the land of marketing, a marketer could control a brand's story by running an expensive TV spot in the ad break of Coronation Street or Premiership football. The act of reaching a million eyeballs was regarded as 'job done'. Today, that's just the start. A much more complex, challenging landscape has replaced those pre-digital days.

One-way messaging has become a two-way dialogue with brands seeking to create multidimensional experiences for their customers. In fact, the notion that a CMO can "control" a message at all is now somewhat of a misnomer. Consumers are now part of – often the driving force behind – brand narratives whether CMOs like it or not. With more and more of a brand's perception being crafted by consumers, brands need to actively develop new platforms for participation. Coca-Cola's "named bottles" did that by encouraging consumers to develop and share their brand stories in their own way on social media.

As Joy Bhattacharya, managing director, Accenture Interactive UK and Ireland, puts it: "The consumer is part of the brand experience, has a voice and will take the brand conversation in different directions, whether you plan it or not. So, it's not about deciding how you relinquish control, it's about recognising that control has been relinquished and so putting a plan in place to make sure you're relevant and on brand, wherever that conversation may go."

Ex-CMO of Airbnb and Coca-Cola, who now runs TwentyFirstCenturyBrand, Jonathan Mildenhall, talks about a "beautiful tension" between autonomy and control, which he first witnessed at Coke when two superfans set up their own unofficial brand page on Facebook. Consequently Coke "lost control" of the brand narrative, which heralded a complete rethink about its approach to consumer and fan engagement.

"A marketer's role today is to work hard to influence where that narrative takes place and what attributes that narrative promotes," says Mildenhall. "Marketing's job is to reach into the community and inspire and amplify. Do that, and your brand is golden."

For brands which do this successfully, like Airbnb, it may appear that the majority of their communications are spontaneous and in real-time. But, in fact, there are rigorous processes behind the scenes that facilitate and control the curation and amplification of consumer voices. Scenario planning in advance is an important part of the process, where brands anticipate various outcomes and mock up possible creative and content executions.

Other brands doing this well, says Mildenhall, are Glossier, Lyft, Supreme and Burberry, citing the latter's ingenious The Art of the Trench social-media campaign in which the fashion brand handed over the entire narrative around its iconic trench coat to the consumer.


The customer comes first. You have to listen to them. If you ignore that, you quickly become irrelevant
Traditional is not dead
That's not to say that CMOs should focus all marketing efforts exclusively on reactive communications, stop planning campaigns or put the life of the brand completely in the hands of their consumers. The skill of a successful CMO today is to balance these seemingly spontaneous real-time reactions with a calendar of planned, bought campaigns using traditional media channels, over which the brand has more control.

This middle ground attempts to influence the consumer. Playstation, for instance, supplied lots of visual content for its Playstation Network users to share via social channels. Playstation controlled the content but not what was done with it.

Bhattacharya says this dual strategy "puts you in a much better place to curate your brand message even when you haven't got autonomy: you see what's happening in the market, in the news and with the competition, and you're able to respond appropriately".

Key to this new, more agile way of operating is trust. Senior management needs to trust the marketers on the coalface and empower them to make decisions on-the-fly, to capitalise on opportunities that arise, rather than having to jump through multiple approval hoops and missing that golden marketing moment.

But, perhaps most importantly, is the trust the consumer has in the brand, which comes down to their belief in the brand's purpose and the extent to which the brand delivers on its mission. Research backs this up – data from the Global Strategy Group in 2016 shows that when considering a product or service, 83% of consumer say a brand's values are an important factor. And clearly, if they trust the brand, they are more likely to communicate positively, and as Bhattacharya says, "this is the glue that keeps a brand authentic" and gives marketers a degree of control beyond traditional media channels.

On-boarding
The board has to buy into this direction and the vital discussions around a brand's purpose, values and boundaries are established well in advance.

"Increasingly, as the scope of their role changes, 'winning' CMOs have communications, brand and customer/client experience in their portfolio. They directly report to the CEO, are in the 'inner circle' of CEO advisors, or even have a seat on the ExCom/board," says Abbie Walsh, group director, Fjord, UK and Ireland.

This shifting landscape also necessitates a creative culture of collaboration and openness, something Disney has in spades. According to Anna Hill, CMO, Disney UK and Ireland and general manager of Disneymedia+, which is responsible for all brand collaborations, "talking" and "listening" are at the heart of the dichotomy between control and autonomy. So, too, is the equally delicate balance between "being forward thinking" but also "authentic" and "honest".

"We manage our brand across different channels by talking, being integrated and by creating a strategy that we all agree to work to. We work closely with our global teams on strategies and direction," she says. "We listen to consumers about what they are buying, what they are talking about. We watch trends closely. We therefore develop a long-term plan to work with, but there is always opportunity and instinct, which we seize in a more flexible and nimble way."

Creating a clear strategic, long-term plan that incorporates short-turnaround flexibility is a huge challenge. It's no wonder that some CMOs, especially those who like certainty and control, are finding this brave new world of marketing hard to navigate.

Some may even believe that the best way to proceed is to opt out of the consumer conversation completely and, instead, focus all attention on planned, bought campaigns. But this is a surefire way to fail. Ignoring consumer feedback does not mean you have control, just an illusion of it. As Hill says: "Can you ever have total control of your brand, without damaging the consumer experience? For us, the customer comes first. You have to listen to them, what they love, what they like, what they don't. If you ignore that, you quickly become irrelevant."

The advent of new technology such as Artificial Intelligence (AI), can help manage and monitor multiple platforms. However, unless marketers have the right skills, this can add more complexity because it requires sophisticated processes and tools to enable real-time processing of customer, competition and economic data sets.

Walsh concludes: "Successful CMOs are those who give consumers the autonomy to play around with their brand assets but control the starting point and – to some degree – the arena in which these interactions occur."