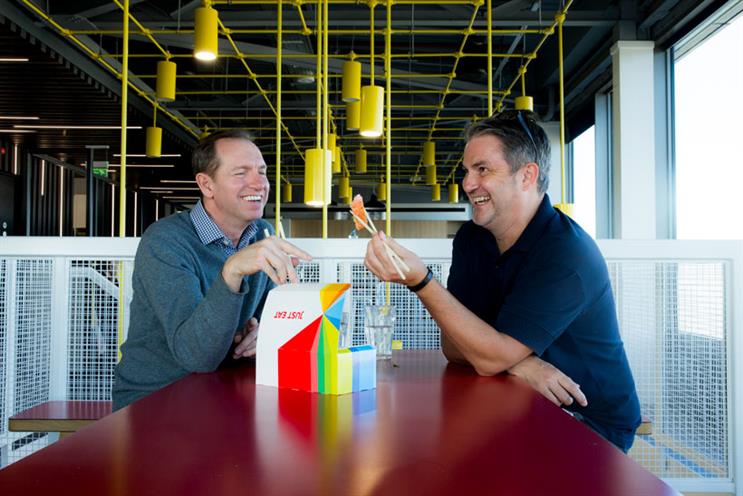 Just Eat picked Karmarama in 2016 to relaunch the brand and handle its UK advertising. Campaign brought together Barnaby Dawe, global chief marketing officer at the food delivery platform, and Jon Wilkins, Karmarama's chairman, to discuss their favourite ads, artificial intelligence and the one-way march towards the grave.
Since this conversation took place, Just Eat's UK arm has kicked off an advertising review. Karmarama remains in the running.
BD How would you like to be remembered after you die?
JW I don't think I will be, and I'm very comfortable with that! But, in all seriousness, I'd like to be remembered as a relatively decent human being – a good friend, colleague, dad. It's quite a low bar, really. It's not massively aspirational. But definitely not to leave too much non-karmic nonsense on the planet after I've gone.
BD I'm clearly more vain than you are. It's very important I'm remembered. I drum it into my nieces and nephews on a daily basis: don't ever forget me. I think you do leave something with people, like your sense of fun or companionship. I suspect I shall be remembered for pushing people, certainly the next generation. I don't like standing for any nonsense, and I don't like it when I see people being crushed by someone who's being dominant and abusing their position.
JW Flourish and nourish, help people grow. And I always liked Spike Milligan's tombstone: "I told you I was ill." I think if I had a tombstone, mine would probably say: "I should have thought that through a bit more."
The robots are coming
BD Looking ahead to 20 years from now…
JW We'll be quite old, won't we?
BD No, we won't, that will make us… 40 years old. Anyway, what do you think will be the biggest change between now and then?
JW One thing where I can't see how it's going to play out is the "man versus machine" debate. The relentless pursuit of technological improvement has made our jobs and lives and businesses more efficient. But I wish whoever was running that shift had a bit more long-term perspective on the ramifications for future generations in an AI-driven world.
BD I feel the same – AI will be an integral part of everything we do, every decision we make. But I'm quite excited about it. I can't wait until your car can talk to you a bit more about, say, the journey.
JW I'm saving my driving self for a world where I can sit in the back with my feet up. I've never really been a keen driver – I only passed my test when I was 40.
BD So… last year?
JW Last year, yeah. So I'm seriously thinking of not buying a car until it can drive me. When I was about 25 and people said why don't you drive, I said one day I'm going to have a chauffeur. Obviously I never had a chauffeur, but now what I'm banking on is a driverless car.
BD Apparently it's all there, but it's just a question of regulation – and they're worried about the collision, literally, of human-driven vehicles and AI vehicles. Human error is greater than AI error.
JW AI is very focused on an outcome, and not on possibility. I hope our children, nephews and nieces get a chance to express and create and make mistakes.
BD But they will because they'll be fuelling what AI becomes, so that will be the new form of art.
JW The start of it has got to be how can we use this technology to invent a better world. But the thing that's been missing is this "better world" bit – I'm worried the entrepreneurs in the tech space at the moment aren't the idealists, they're just automating and inventing because they can. For every moment of optimism, I have some fear.
BD I like to just be optimistic until shit happens. Then I get twatted. I won't see it coming. You'll be like: "I told you so."
Funny handshakes
BD If you could change one thing about your job, what would it be?
JW The travel thing's quite tiring. When I was in my, ahem, thirties, travel was a real thrill and a big part of what I wanted to do with my job – and now I find it quite hard physically and mentally.
BD I don't want to travel more, but I wish I could and had the energy and time to do it. Because when you get there, it's only then you can see what's really going on and how people are feeling. I'm on the Marketing Academy Fellowship this year, which is amazing. It's in three chunks, it's run by McKinsey, and the first one was in January at their hotel in Kitzbühel in Austria.
JW And is this the sort of fellowship with funny handshakes, where you have to be invited in?
BD It's not the Freemasons, and there were no funny handshakes – that I could detect. But maybe that's because I'm not part of that elite. It's a great opportunity to talk to peers who are facing the same challenges, both as leaders and marketers.
JW Where's the next one going to be?
BD Berkshire. So not quite as exotic. How about you – where have you been recently?
JW I don't get invited to any cool work things – so mine would be Kingston, Jamaica, trying to find obsolete seven-inch ska singles.
VHS classics
JW What would you say your favourite advertising is?
BD My favourites are things like "Do the Shake 'n' Vac", "For mash, get Smash". There's the Humphrey one…
JW "Watch out, watch out, there's a Humphrey about." The Unigate milk board, which is one of my favourites too.
BD I like those, but they were of an era. After that you got into the big epics, like the Levi's ads for 501s – "Launderette" with Nick Kamen. Then there was the Guinness ad with the horses coming through the waves ["Surfer"].
JW When you're young and your brain is half empty and suddenly you're impressed by advertising, those ones still stick with me more – the Hofmeister bear, and all of that. I always wanted to work in advertising, partly because of the impression those ads had on me. My first advertising job was at BMP, and at Christmas we always got a VHS with the best ads BMP had done.
BD What's VHS?
JWIt won the war against Betamax. It's a very, very high-definition format. I've got a player I can share with you. So, we'd get this tape and I'd take it home to my family and say we've got to watch this history of BMP's advertising, and they'd done all the ads I really liked. It was just such a heartwarming thing. The ads were trippy, weren't they: magical but really trippy.
Turd on the doorstep
JW What's the best piece of advice you've ever received?
BD Never do an interview with Jon from Karmarama.
JW Yeah, it's always going to end in tears, isn't it. Is that the best you've got?
BD No – I have one from Polly Cochrane, who was my boss at Channel 4 at the time. I'd take stuff to her and she'd then reject it unceremoniously. Over time, I realised that what she wanted was the relentless pursuit of perfection, but also about advertising being entertainment. So the question was always: how can I make this bigger and better? And now I give that advice to my teams all over the world. Even if it's an email – just take a minute to think, what else can I add?
JW You only learn when you make mistakes. I used to want to punish myself – the Protestant ethic – when I made a mistake. But I discovered the only way you progress and learn is through looking at a mistake and thinking, how can I not make that happen next time? My other best advice was to never take your boss a problem, always come up with a solution and take them that.
BD I like it when people bring me options, rather than just one solution.
JW If you're having a bad day, the last thing you want is someone bringing you another stinking turd to your doorstep. •