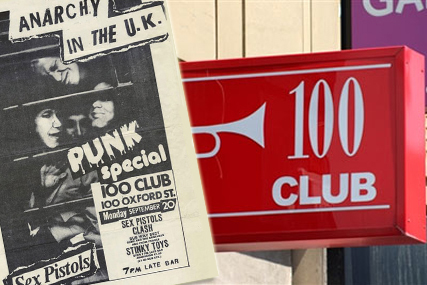 The club was due to close later in the year, despite a campaign to keep the historic venue open. Paul McCartney chose the 100 Club to play a one-off gig in December before his major tour to show his support for the venue.
Today Converse said it will sponsor the 100 Club, ending concerns over the venue's future.
The company said: "We at Converse are very excited about our new partnership with the legendary 100 Club in London.
"Converse's commitment to being a catalyst for creativity is at the heart of the brand and we are dedicated to championing and supporting artists, fans, the music scene, venues and the experience.
"Converse and the 100 Club both share a love for music and this partnership is a great opportunity to reunite the 100 Club with a generation who experienced history inside its walls, as well as introduce it to a new generation with a vow to bring the best in music to its legendary stage."
Converse has used viral campaigns to reach younger audiences with spots featuring artists Santogold, Paloma Faith, and N.E.R.D., among others.
The 100 Club has played host to some legendary performances over its 70-year history including bands such as the Sex Pistols, the Rolling Stones, Oasis, Roxy Music, The Jam, The Clash alsongside stars from the jazz and blues such as Howling Wolf and Muddy Waters.