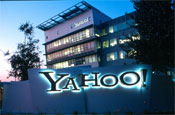 A Yahoo deadline for board nominations looms on Thursday and Icahn is expected to decide today whether to nominate a full or partial line-up of candidates to try to replace Yahoo's 10 person board - a move designed to pressure the company to reopen talks and sell to Microsoft in a friendly deal.

Some large Yahoo shareholders have contacted Icahn in recent days, urging him to become involved, according to reports.

A shareholder vote on board nominees is scheduled to take place at Yahoo's annual shareholder meeting on 3 July. Yahoo and Microsoft declined to comment, according to the reports.

Confronting Yahoo's board would not be the first time that Icahn has accumulated stakes in companies he feels have let down their shareholders.

In recent years he has pressured Blockbuster, Motorola and Oracle into strategic shake-ups. Earlier this year he pressured software maker BEA Systems into agreeing to an $8.5 billion sale to its rival Oracle after Oracle dropped a bid of $6.7 billion.