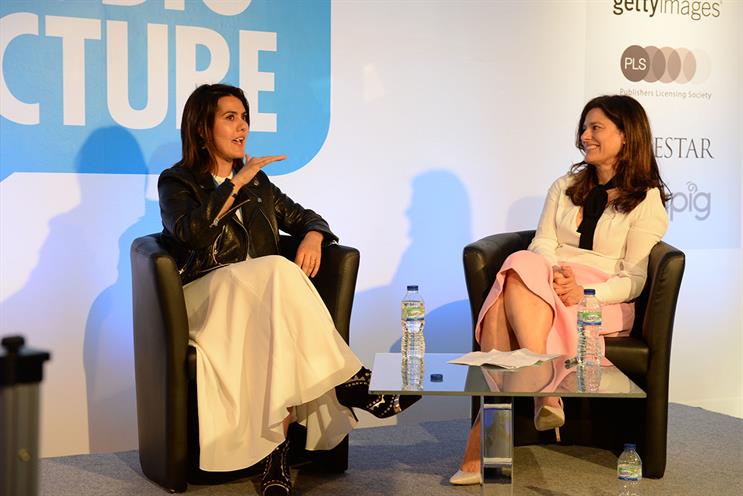 At the PPA Festival in London today, Storr was interviewed by Miriam Gonzalez Durantez, the lawyer and wife of former deputy prime minister, Nick Clegg MP.
Storr said: "When I took over, Anna Jones, my CEO, said we're rethinking how we reach millennial women. They're not going into the big superstores anymore…. The plan that Anna came up with is we have to put it in their hands.
"So we have a popup and pickup distribution, we're in Tesco Metro, WH Smith Travel, where readers are coming to and from work very late at night. You will find us at airports – not everywhere – but at the gate on the Friday night flight that is going to Ibiza.
"It's very specific, we're at the cinema but only when certain films are on like How to be Single.
"We have also launched on Snapchat. The amazing thing about Snapchat, and it makes me chuckle, that people in the office with little sisters know Cosmopolitan through Snapchat but don't know it's a magazine. They will be sending snaps to their friends and think 'I've discovered this wonderful thing called Cosmo'."
"We also do a big event in shopping centres, where readers will go to the event and connect. And at £1 they're going to pick it up. It's a clever strategy and I have to provide the content."
Gonzalez challenged Storr on whether these new revenue streams were a "nice to have" rather than a must-have in a climate of declining print ad revenues.
Storr insisted that the nature of millennial women, who are more socially conscious and serious about their careers, meant that the brand had to reach out through different channels and engage with them as a community.
She said: "It's about community and I think it would be naive to think that community just exists with the physical magazine... for the bottom line you have to do that, you have to have diversity.
"Our events are highly profitable but it's not just about the money. We do Fash Fest in September which is five days of events across the capital… many of our readers would never go to a fashion show and that's a deep memory for them.
"You'll be seeing a lot more of that: us going out and engaging with our consumers. This year one of our big campaigns was the housing crisis, where the big idea is where are we going to rehouse young women, who are on their first job in the capital, usually in the creative industries."
The former Women's Health editor admitted she used to harbour a "snobby" attitude when aspiring to be a newspaper journalist earlier in her career.
But, after having been appointed the UK editor of Cosmopolitan since last July, she insisted women's magazines have the potential to be "way more powerful" and should be making "constant noise".
While insisting that "you live and die by your brand", Storr added that having a diverse publishing strategy across different platforms means tailoring different content to different media.
She said: "The content we produce on Snapchat will be very different to the content we produce online or in the magazine. But it's all through the prism of 'it is Cosmopolitan' and it is entertaining.
"I'm a big fan of men's magazines', particulary from the 90s: that naughtiness and irreverence. That has to be the sprinkle on top of everything. You can document women's issues but you have to make it entertaining at the same time."