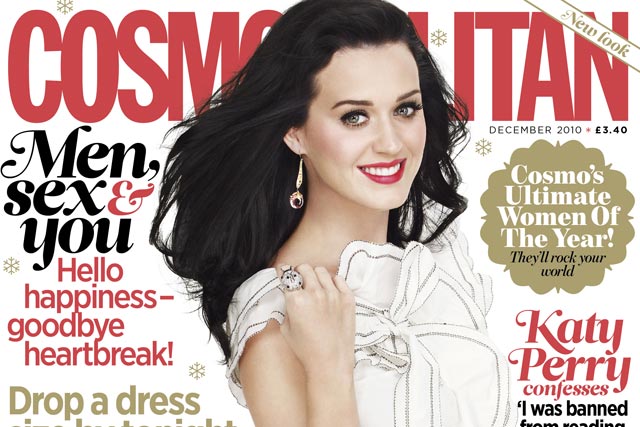 Cosmopolitan.co.uk page impressions hit 11.8 million in October, according to official ABCe figures, and increased its average monthly unique browser figures by 56% year on year.
The magazine's monthly average hit 765,880, a year-on-year rise of 273,500 browsers. The website recorded daily average unique browsers of 30,489 for the same month.
Subscribers to the Cosmopolitan.co.uk daily and weekly email newsletters are also reported to have increased by 22% and 49% respectively year on year.
A Cosmopolitan spokeswoman attributed the strong figures to new initiatives such as the Cosmopolitan Blog Awards.
New areas for the website have also been developed. These include Cosmo Shop!, Cosmo on Campus, Cosmopolitan Classified Directory and the title's dating channel, 'The One'.
The spokeswoman also highlighted the popularity of Cosmo TV, a portal that offers behind-the-scenes footage of naked centrefolds.
Justine Southall, publishing director of Cosmopolitan, who is set to leave the company to pursue personal projects, said: "Cosmopolitan is a truly multi-platform brand, which continues to thrive.
"We're absolutely delighted with our ABCe figure which underlines Cosmopolitan as one of the most popular destinations for women online."
In the wake of Southall's intended departure, the publisher has hired Rebecca Miskin as a digital media and product development consultant to expand the Cosmopolitan brand across all platforms in the UK.
A direct replacement for Southall is being sought to take over when she leaves on 17 December.
Miskin most recently worked for NBC Universal in the US where, as general manager for iVillage Networks, she was responsible for the company's core digital sites – iVillage.com, the iVillage-owned sites Astrology.com and GardenWeb.com, and iVillage UK.
Miskin previously worked at IPC, where she set up its German publishing arm and launched IPC Media's Content & Licensing division.
Her responsibility will be to work with Cosmopolitan's editorial and commercial teams to identify and implement media strategies to expand the brand across multi-media platforms.
Arnaud de Puyfontaine, NatMag's chief executive, said: "Expansion of Cosmopolitan as a multimedia brand is a major focus of our overall business strategy, and we are confident that Rebecca's skills and expertise in digital strategy and product development will help take this important and much-loved brand to the next level."
In October, NatMag announced it was migrating its magazine websites to a consolidated publishing platform developed by parent Hearst, allowing it to streamline user experience and create "new revenue streams".