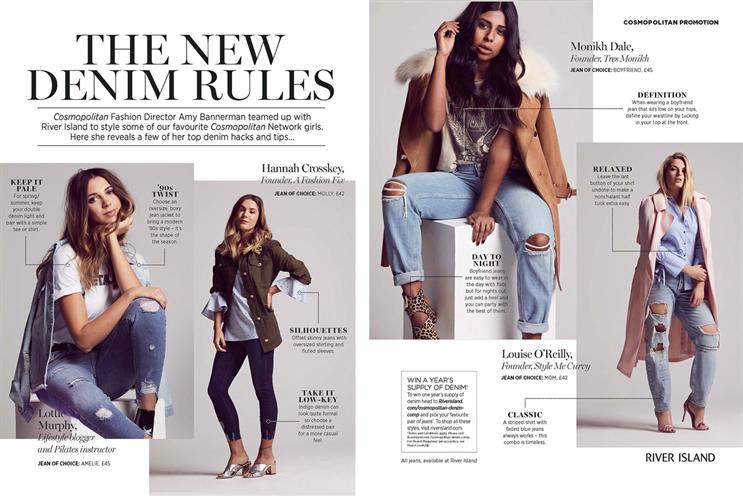 So far, the network has eight influencers and expects to recruit more over time. Current influencers cover a mix of fashion, beauty and lifestyle but Cosmopolitan is keen to include other areas including music, art, and entertainment.
All of its influencers are female at the moment, and includes a pug @sukiandthecity which comes with 25,200 followers on Instagram.
River Island has engaged the network for its latest denim campaign, launching in February. The campaign will include four of the influencers – lifestyle blogger Lottie Murphy, Hannah Crosskey ("A Fashion Fix"), Louise O'Reilly ("Style Me Curvy") and Monikh Dale ("Tres Monikh"). This deal will allow River Island access to influencers' combined reach of 265,000 followers, as well as Cosmopolitan's audience of millions, across a variety of platforms.
Here's how the tie-up works. Influencers will share a post on each of their social feeds and Cosmopolitan will style them with River Island's denim collection for a double-page advertorial in the March issue. River Island in turn will use the material on its own digital platforms. Finally, the influencers will also feature on three co-branded videos, which will be shared on Cosmopolitan's Snapchat Discover platform.
"The Cosmopolitan Influencer Network allows clients the opportunity to work hand-in-hand with Cosmopolitan and our pool of influencers to generate bespoke content to help engage the women they want to reach," said Duncan Chater, chief revenue officer, Hearst Magazines UK.