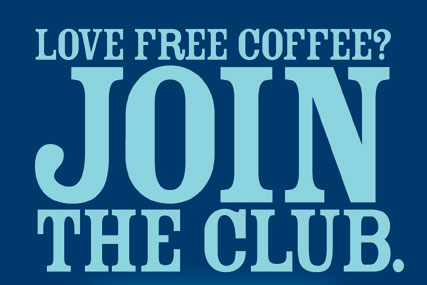 The coffee-shop chain is increasing the pressure on rivals Starbucks and Caffè Nero with the launch of a nationwide points-based programme.
The Coffee Club loyalty card, which Costa is launching tomorrow (Thursday), gives customers five points for every £1 spent in its stores, with every point worth 1p.
The company will also offer extra 'reward opportunities' throughout the year via 'bonus-point' promotions.
Costa claims it is the first points-based loyalty scheme in the coffee industry. It allows consumers to collect and redeem points on all its food, drink and other merchandise.
The scheme replaces Costa's prepay Store Value Card, which had been in use for the past three years.
To support the launch, Costa's lead agency, Meteorite, has created a recruitment campaign that spans direct mail, online and in-store activity. Using the headline 'Love free coffee? Join the club', it aims to encourage consumers to pick up a card in stores.
Meteorite will also be respon-sible for handling the CRM stra­tegy for the scheme. Cardholders will receive tactical communications throughout the year, in support of Costa's overall positioning 'We make it better'.
Kevin Hydes, head of marketing UK at Costa Coffee, said: 'In a competitive market, it is vital that we show our coffee-lovers just how much we value their custom.'
Rival Starbucks runs a card-based customer loyalty programme, which allows users to load amounts onto it of between £5 to £150 to spend in participating stores globally.
It has also begun providing free wi-fi access to cardholders. The decision is the latest in a
series of strategic changes intended to reinforce the coffee chain's loyalty offering.
Jeffrey Young, managing director of Allegra Strategies, said: 'This signals the increasing maturity of the industry, which has become so significant these tools have become vital to ongoing success. Electronic loyalty cards also provide an opportunity to engage in rich dialogue with customers and track their behaviour.'