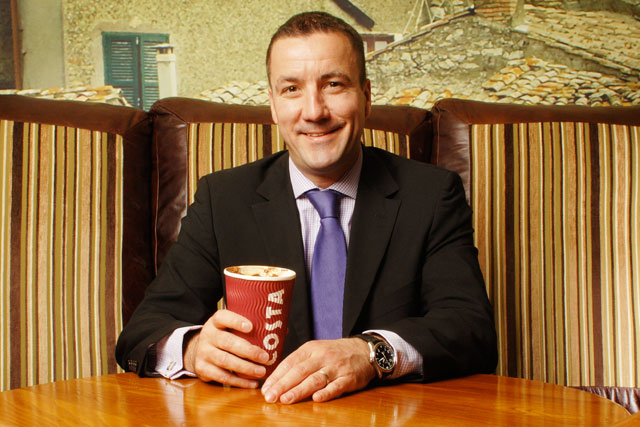 The results follows the news that its Costa Enterprises division, which houses its recently-acquired Coffee Nation brand, is to sponsor the Rapha Condor Sharp cycling team, the first time the coffee-chain has moved into sport sponsorship.
The financial results reveal Costa would appear to be performing well, helped by new store openings, with plans to open 350 net new stores in the next year.
Jim Slater, Costa Enterprises managing director, talks to Marketing magazine about the sponsorship and the coffee chain's future plans.
Will this rate of store openings continue?
"Our new stores will be opening nationally across the UK. Having analysed the market carefully, we feel there is room for significant growth in the UK coffee market."
There seems to be a lot of excitement around Costa's deal with the Rapha Condor pro cycling team. How excited are you about this and what was the reason behind the deal?
"Right now, the Costa Express sponsorship of the Rapha Condor pro cycling team is generating a lot of excitement. Costa Express has grown phenomenally quickly since we created it a year ago, and now the time has come to become famous for more than just great numbers.
"In Rapha Condor, we have a partner which is innovative, consistent, and pretty damn sexy- we'd like to think that Costa Express has more than a little in common with that."
What about other sponsorship opportunities?
"We have a long sponsorship association with the literary community, via the Costa Book Awards which have been running for eight years. We also focus an enormous amount of energy on sponsorship of the "Costa Foundation."
What do you think about resistance in some quarters from the dominance of coffee chains on the high-street?
"There have been a couple of examples recently where there has been some resistance to Costa opening in smaller towns.
"In each instance we adhered strictly to all the planning rules. I am very proud of the quality of our coffee, and our services, and we are delighted to crate new jobs in previously vacant High Street units."
Follow @johnreynolds10