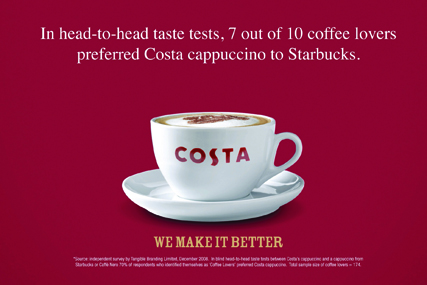 The Advertising Standards Authority ruled in Costa's favour after carrying out an investigation into the ad campaign which debuted in March last year.
Starbucks had complained that the ads' headlines "Starbucks Drinkers Prefer Costa" and "7 out of 10 Coffee Lovers Prefer Costa" were misleading and that the research behind Costa's claims was flawed.
The ads, which ran across the national press, outdoor and the regional press, attracted just one complaint, from Starbucks.
In particular, Starbucks took issue that the "7 out of 10 coffee lovers prefer Costa" was misleading because it believed it implied a preference for all Costa products over those of its competitors, when it referred only to cappuccinos.
Furthermore, Starbucks argued that the qualifying claims "7 out of 10 coffee lovers preferred Costa cappuccino to Starbucks" was insufficiently prominent and contradicted rather than qualified the headline claim.
Costa, which no longer uses the ad, disagreed and argued that the headline claims on their own were meaningless and were therefore incapable of substantiation.
Costa added that when the claims were read in conjunction with the qualifying text, they clearly referred to cappuccinos, rather than Costa products generally.
It also pointed out that its research had been detailed in the explanatory notes on its websites.
It also stated that the CAP copy advice team had reviewed the survey and was satisfied that it substantiated the claims in the ad.
The ASA did not uphold any of Starbuck's complaints. It noted that the CAP copy advice team had offered guidance to Costa on versions of the ads.
It also ruled that references and images would be understood by consumers to imply a particular preference for Costa's coffee products only, rather than all of its products.
The watchdog also ruled that the headline claim "Starbucks drinkers prefer Costa" was immediately followed by sufficiently prominent qualifying text..
The ASA ruled that no further action was necessary prompting Jim Slater, marketing director of Costa Coffee, to say: "Costa has been totally exonerated. The adjudication is good news, but not a surprise."
Starbucks, in response, said: "It's puzzling that the ASA has changed its mind since its initial findings in our favour - especially as OFCOM ruled the campaign was misleading as long ago as September.
"However, our coffee is Fairtrade and from the best 3 per cent of the crop and the fact we have a record number of customers says more about it than a paid-for survey based on just 57 people."
OFCOM had previously concluded that Costa's research was based on a subjective and limited assessment before referring it to the ASA.