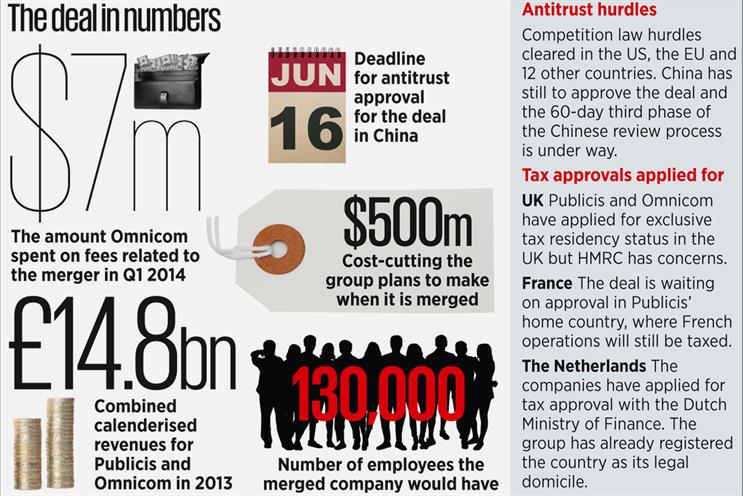 The holding groups said they could not put a date on the merger completion, which will create the world's largest advertising company. When the deal was revealed last July, they expected to complete by the first quarter of 2014.
Omnicom spent $7 million (£4.2 million) on professional fees for the deal in the first quarter of this year, according to its Q1 financial report.
The groups' share prices have tumbled since tensions over the deal emerged at the end of February. Publicis shares had fallen from €69.06 on 25 February to €60.27 on Tuesday. In the same period, Omnicom's shares dropped $10 to $66.69.
Marcus Anselm, a partner at the corporate finance advisor Clarity, said: "There is also the cost of the distraction to management time. They will have hundreds of very senior people focusing on the deal who could be focusing on strategy and growth."
HM Revenue & Customs has placed conditions on whether the merged company can be registered for tax in the UK. A spokesman said HMRC was vigilant over "aggressive" tax planning and international tax reform.
John Wren, the president and chief executive of Omnicom, commented last week that the UK tax hold-up was "unexpected".
Tax rulings are also pending in the Netherlands, where the new company would be legally domiciled, and France. China represents the final hurdle for competition laws.
Both companies will form 50 per cent of the new group, but one has to acquire the other for accounting reasons.
Sources said there has been infighting over senior roles, especially the position of chief financial officer, which could go to Omnicom's Randall Weisenburger or Publicis' Jean-Michel Etienne.