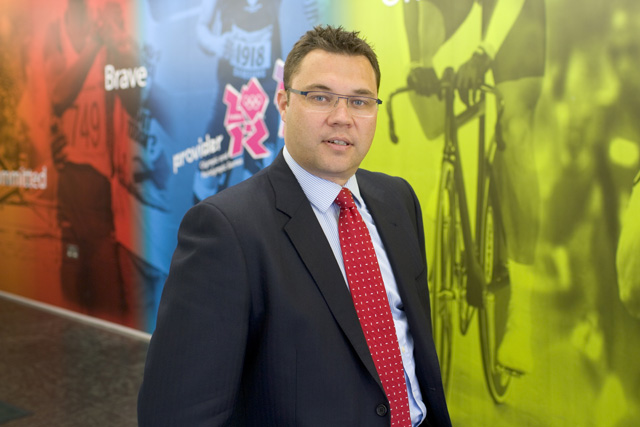 Despite having had the top job at CBS Outdoor for just 17 days, its new country director, Jason Cotterrell, is ready for a holiday.
It's understandable - he has had a lot to do very quickly. In typical CBS Outdoor fashion, he was promoted to the role from his previous position as the franchise and asset strategy director after the shock departure of two senior executives.
At the end of June, the CBS Outdoor managing director, Mike Moran, and its commercial director, Mark Chippendale, suddenly departed the company's Camden headquarters following a restructure, leading to all sorts of lurid rumours. Sadly, Cotterrell will not be drawn on the circumstances of their departures, or his subsequent appointment that gave him responsibility for the whole of the UK business.
Cotterrell says: "I think you can imagine it was a pretty quick appointment, and it wasn't something that I was in discussions about. I love this business, and while it's a shame about some of the circumstances in which it has come about, I'm delighted to have been given the opportunity to do this. I'm CBS to the core. I love transport advertising. I love what we do."
Meanwhile, his colleagues in the industry have plenty of opinions on what has happened. Sources suggest Cotterrell's predecessors might have benefited from more time in the job. Moran had been there for 17 months and Chippendale was given less than a year, during which time he impressed.
One surprised buyer says that Chippendale, a former TV salesman, had managed to "get his head around the world of outdoor". The exit of the former Toyota marketer Moran was less startling. "Mike was an interesting choice to begin with," he explains. "His style didn't necessarily suit sales but, operationally, I don't doubt that he was very good."
The contrast between him and Cotterrell is stark. Cotterrell has been at CBS Outdoor, bar a stint at a smaller bus company, for almost 17 years. During this time, he has established a reputation as a "seasoned professional". More importantly, despite having spent some time away from sales, he has maintained relationships with the buyers.
Cotterrell is decidedly upbeat about his new role, and boldly announces he has a transformational "100-day plan". This may be useful. CBS Outdoor's difficulties with its biggest sales contract, London Underground, are well documented. It is a matter of public record that in the depths of the recession, CBS had to pay LU £71 million in 2009/10.
It emerged in April that CBS Outdoor was suing LU over the terms of its sales contract. When Viacom Outdoor (as the company was then known) won the business in May 2006 after a keenly contested pitch, it was considered the biggest outdoor ad contract in the world, covering 33,000 poster sites at 275 Tube stations and was estimated to be worth £800 million over eight-and-a-half years.
However, it looks like the company promised a deal to LU that is tough to deliver. Some of the executives to have left CBS Outdoor ahead of Moran and Chippendale over the past three years include an international chief executive, a UK chief operating officer and a managing director of sales and marketing. Cotterrell will not make the connection to the LU contract, but it doesn't exactly require a stretch of the imagination.
The legal case "is one of those things we cannot discuss", Cotterrell says. "We've got a great contract with those guys." He pauses. "Well, we've got a contract with those guys, with great assets that we're working to the best of our ability to sell. The contract is what it is, and what we're doing is we're making the best of that."
Chippendale will not be replaced. Cotterrell says that he and Liam Reynolds, the national sales director who joined from News International late last year, have worked on a "small but key reorganisation". Cotterrell intends to appoint around 12 people and has created the role of head of product revenue development to ensure agencies understand the range of products.
"We have reaffirmed people's roles and the tasks we want them to do," Cotterrell explains. "And I've been out pretty quickly and spoken to all of the poster specialists. I've got their take on where they think we can do better and I'm trying to address some of their points. We want to make sure we've got people geared up in the right locations."
The rest of CBS Outdoor's portfolio is in better health. It dominates the bus market and recently won the outdoor ad contract to sell media at Westfield Stratford City. Cotterrell says the two Westfield contracts allow the company to "bookend" London and offer a "very heady and potent proposition for advertisers".
He's not without fans. "Jason has transit and outdoor coursing through his veins," the former CBS Outdoor executive and current chief executive of Ocean Outdoor, Tim Bleakley, says. "I hope he is given a reasonable timespan to make his mark. He has done an exceptional job on the bus business for years."
A bigger question might not be Cotterrell's abilities, but whether anyone can make the LU contract work in a tough market. "I just know that I'm working with a great set of people in a great environment," he says. "We've got fantastic assets, and I'm going to do my utmost to manage these properly to do the best I can for my stakeholders."
THE LOWDOWN
Age: 42
Family: Married to Diane with three children: Oliver (aged 15), Lucy (aged nine) and Ted (aged three)
Favourite poster ad: Nationally, the Milk Marketing Board this year, and, up at the moment, Flamingo Land in Yorkshire and the North-West, both on T-sides
Favourite media: Bus advertising, although the flexibility, audience proximity and creative impact of cross-track projection on London Underground makes it a close second
Interests out of work: Spending time with my family and Bolton Wanderers FC
Motto: Don't put off until tomorrow what can be done today.