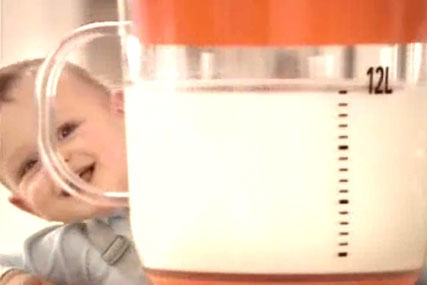 The ad suggested that to meet half its daily needs, a toddler would have to drink 12 litres of cow's milk every day but only two beakers of Cow & Gate Complete Care Growing Up Milk.
In the TV ad, created by Euro RSCG, a voice over said: "Did you know eight out of 10 toddlers aren't getting enough iron?". Accompanying on-screen text stated "Recommended Daily Intake = 6.9 mg".
The complainants challenged whether the claim could be substantiated and the Advertising Standards Association ruled it could not.
The ASA found that the figure 6.9 mg was an average recommendation for different aged and shaped toddlers.
The 6.9 mg figure was not the amount of daily iron recommended as being necessary for preventing development problems associated with iron deficiency in individual toddlers and the ASA concluded the ad was likely to mislead.
The ad breached CAP TV Advertising Standards Code rules 5.1.1, misleading advertising, and 5.2.1, evidence. The ASA said it should not be broadcast again in its current form.