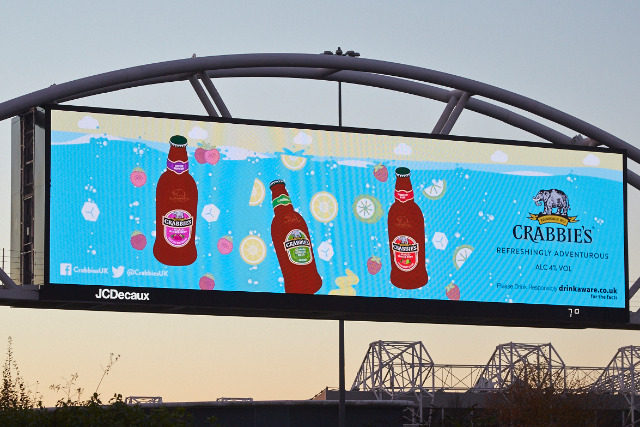 In an effort to "take the brand in a new direction", the new creative sees four artists tasked with creating concepts that bring to life the brand's new positioning, 'Refreshingly Adventurous'.
The four artists are Hungry Sandwich Club, a design, illustration and animation duo based in Leeds, Andy Smith an East Suffolk artist, Anthony Zinonos, a collage illustrator from South Africa and Matthew the Horse, an illustrator, graphic artist, poet and educator.
The resulting designs, which all use the Crabbie's bottle, will run as a series of ads on billboards and digital outdoor. Radio ads featuring a competition and social media also form part of the wider drive.
Prior to this campaign, the Halewood International-owned brand's ads were themed around a 1950's couple and used the strapline, 'Refreshing ginger beer, only for grown-ups'.
Claire Kelly, marketing controller at Halewood International, said the campaign aimed to "communicate to a different audience" and get consumers to "spend more time with the Crabbie's brand".
Crabbie's Alcoholic Ginger Beer is available in four different variants; Original, Scottish Raspberry, Strawberry & Lime and Citrus Twist.
Last month the brand's 'Crabbie's Time' app allowed users to win presents and prizes throughout December.