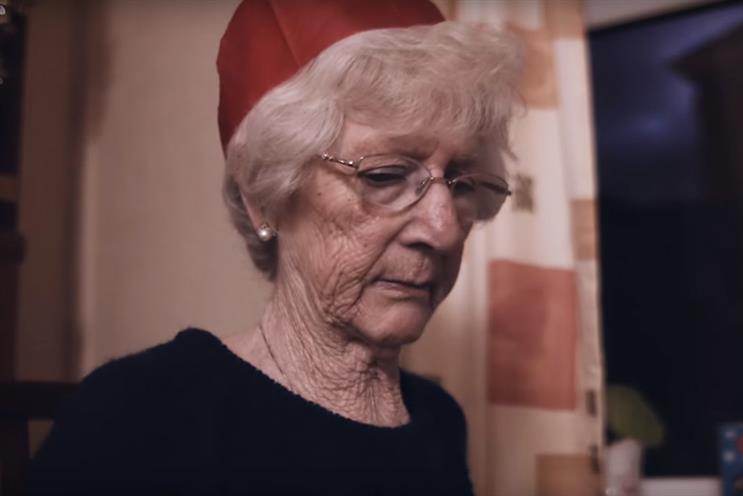 The "solo cracker" was devised by BMB, and forms part of the charity Contact the Elderly's campaign to raise awareness of the loneliness experienced by elderly people at Christmas.
The online campaign features a film of an old woman's solitary Christmas dinner and ends with her pulling the "solo cracker". The cracker, which has one end to hold and the other to hook around a chair, has the tagline "half the people, twice the fun".
The "solo cracker" website and Facebook page reveal the truth behind the product, and encourage people to donate £5 to Contact the Elderly.
BMB produced the campaign, with Jenny Piggott as art director and Harry Boothman as copywriter. The ad was directed by Martin Tighe with post production from The Mill.
The charity estimates that almost half a million pensioners will spend Christmas alone this year. To help combat isolation, Contact the Elderly run tea parties in over 600 locations across the UK, reaching almost 5,000 people aged 75 and over.
This is the latest in a series of campaigns released this winter aiming to raise awareness of the loneliness and isolation elderly people can face at Christmas. Earlier this month, Bisto launched its "spare chair Sunday" campaign in partnership with Contact the Elderly, which encourages families to invite their elderly neighbours over for Sunday dinner.
John Lewis partnered with the charity Age UK for its "man on the moon" ad, which tells the story of a girl who contacts an old man living by himself on the moon. Age UK has also teamed up with Oliver Bonas and Innocent on The Big Knit project.
German supermarket Edeka released a Christmas ad that shows an old man who fakes his own death to bring his family together on the holiday.