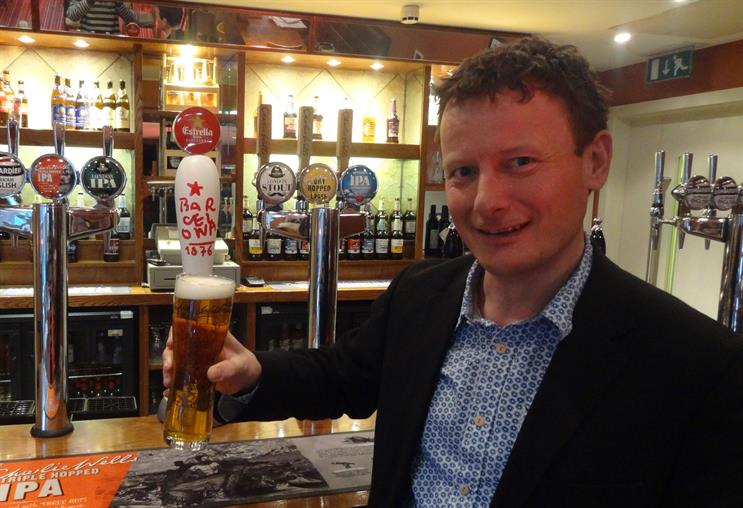 Wills previously worked at Heineken on the Tiger and Desperado portfolios and had a stint at both Merlin Entertainments and Cineworld before coming back to the beer industry.
He has returned to a trade that has undergone a revolution due to the impact of the craft movement and said that one of the attractions of his new role is the new product development remit at Charles Wells.
"When I left Heineken about three-years ago craft was just starting to emerge but at that time it wasn't that significant a player," said Wills.
"The large international brewers were working away thinking lager was their domain. They were not seeing it as a significant threat but are now buying the breweries or taking stakes in them."
Despite craft only representing a niche part of the overall beer market it has been the area that has had the most excitement and buzz. The result has been a reinvigoration of the beer category and increased amounts of new product development.
"Three years ago I saw the beer market as a bit stale and traditional with not a huge amount of innovation and the innovation that was coming through was quite slow," he said.
"But it has completely transformed and is fast-paced."
Create a story
One thing that craft brewers have been able to do effectively is tap into the consumer market with its new brews, he claims.
While small craft brewers have been able to create a story around their beers, a significant number of them have invested in experiential activity, such as opening their breweries and holding tastings.
"A lot of the breweries and brands have been built on authenticity and tradition. There is a real art to storytelling here and they have used a lot of digital channels to do that," Wills said.
"The consumers they are targeting are digital savvy and by making interesting and engaging content that has created word of mouth and shareability. "
Experiential marketing is something that he plans to use more of across the Charles Wells portfolio of beers. But he is keen to point out that there must be an integrated campaign that is going to translate into trade activation.
"I am a great believer in creating brand experiences," he said. "So you are not forcing a marketing message down a consumer's throats but asking them to engage with a brand in a relevant context."
Charles Wells has a wide portfolio of beers ranging from Bombardier, which is widely recognised as a national brand across the UK, to Spanish beer Estrella Damm to Young's London Stout.
He will be looking at overall marketing strategy for each of the wide portfolio and will be investigating how to invest budget a bit closer to the point of purchase.
Bombardier marketing 'under review'
The Bombardier marketing strategy is one of the first under review. The campaign is well-recognised due to its TV ads Bang On! which starred Rik Mayall and Bob Mortimer.
"We will look to review the campaign which has been running for five years. You might argue it's time for a change," said Wills.
"I am not saying definitely that we are going to discontinue this, but the category demands innovation on a regular basis."
He is also keen to look at a marketing strategy that is more relevant to the trade and consumer.
"With digital and social there is opportunity to be much more targeted with demographics in terms of geography and in term geo-targeting," he said.
He is looking at Estrella Damm with a view to associating it with music and food, especially tapas. He also has similar ideas around Japanese beer Kirin and German beer Erdinger. He also has plans to make brands Courage and Directors more relevant and contemporary.
And what of the future?
"Brewers like Charles Wells have no choice but to innovate as the competitive set are innovating and the consumer is demanding innovation and change," he said.