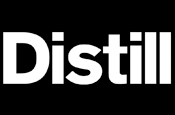 The magazine is presented as a digested read of style and fashion press from around the world and guide to the latest trends in the fashion industry.

Distill, aimed at 25-45 year olds working in the creative industries, is the first consumer magazine from Craft Publishing.

The company was established last year by managing director Christopher Lockwood, formerly publisher at Dazed & Confused and Wallpaper and editorial director Matthew Line, former editor of titles including Homes & Gardens and She.

The new title's editorial team includes Lockwood, Line and editor-in-chief, Colin McDowell, senior fashion writer with the Sunday Times Style magazine.

There are also contributions by big names in the fashion names industry including designers Giles Deacon and Matthew Williamson, Design Museum director Dejan Sudjic and Net-a-Porter founder Natalie Massenet, who sit on the editorial board.

Christopher Lockwood said: "Distill is a unique proposition for a large, growing and affluent audience. The creative industries employ an estimated seven million people worldwide - 525,000 in London alone - with similar numbers in other urban, creative hubs.

"These individuals are time-starved and look to magazines as a way of drawing inspiration from other creatives' work.

"They are excited about developments on the other side of the planet and are constantly on the look out for new stimulation. We'll help them by finding, editing and showcasing the very best."