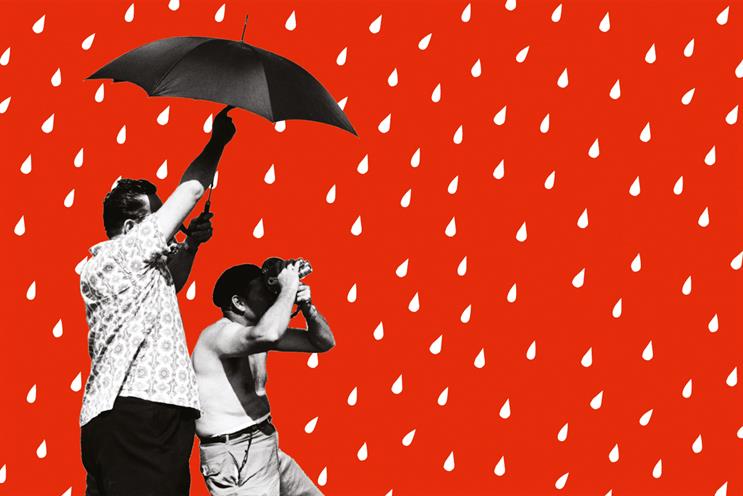 Rob Potts and Andy Jex
Executive creative directors
Saatchi & Saatchi London
A shoot for Pot Noodle at Mother most sticks in the mind because it went from poetic beauty to a fucking nightmare in the smash of a sink.
The scene was set down a coal mine, which had been closed decades before – a poignant symbol of the death of a community, if you like. It was meant to be an emotional moment because the actors were miners – the very same miners who now worked at the Pot Noodle factory in Wales. We had it all planned. They would have tears of nostalgia in their eyes as they took instruction from our A-list director, Stacy Wall, to "GET DOWN THAT MINE AND DIG FOR NOODLES".
It was going to be beautiful.
The ad did end up causing a bit of a race storm with the Welsh
However, there was a problem. There was no Wall. Just before the shoot, he had slipped in the shower, destroyed a hand basin with his head and woken up in Leeds Infirmary. The crew was aimless and rogue drinking ran amok among the cast. When he did eventually turn up, concussed and sporting Terry Butcher-style bloodied headwear, Wall seemed confused. So confused that he must have thought he was on a different shoot because he refused to go underground, let alone shoot a canary underground. And we all know that no mine is complete without a canary.
Ultimately, though, it was a triumph over adversity. The waft of noodle must have worked as smelling salts as we got Wall down the pit and got the shots – even if the ad did end up causing a bit of a race storm with the Welsh.

Kim Gehrig
Director
Somesuch
Shooting is a bit like going to war: it's pretty brutal even when it is going well, but soul- destroying when it's not. And I've been obliterated a few times.
My first-ever shoot as a director was such a disaster that I gave up directing – well, it took me a year before I had the balls to pick up a camera again. On that dreaded first-shoot day, I stood in torrential rain from "camera up" to "camera wrap" and tried to film a "sunny day in the park" music video. Water dripped consistently off the Steadicam. I optimistically said "action" as girls played catch in the rain pretending they could see the ball. I had no idea how awful it was until I was made to reshoot it for peanuts with better weather. The result was equally terrible.
He never got off the dining bus, although his mates offered to do cameos and perform for him
On another equally depressing occasion, I waited for an infamous rapper to turn up on set. When he finally did, it came to light that he had deliberately forgotten to bring his clothes for the shoot. He then sat in the dining bus and insisted on eating takeaway before he would perform. I optimistically shot as many cutaways on 16mm film as possible while waiting for his presence. He never got off the dining bus, although his mates offered to do cameos and perform for him. I waited until midnight but, at that point, he just decided to go home. So I ended up editing the entire video from the cutaways (thanks to my editor, Tom Lindsay).
It has been a long while since I have had a shoot disaster. I'm not sure if that means I'm better at it now or just that I am having better luck. It still hurts, but my toes are firmly crossed that my good streak continues.
Vicki Maguire
Deputy executive creative director
Grey London
At DLKW Lowe, I was shooting an ad for the AA. Pedro Romanhi was the director. I was standing in the car park at Upton Park when a gust of wind blew a film lamp down. All 65kg of it. It hit me on the head and knocked me down; blood poured everywhere. The producer on set just walked away and I remember hearing him say: "Fuck. Of all the creatives I've wanted to kill, she wasn't one of them."
Some gaffer of spark will walk by my and say: 'I've seen your knickers'
I came around to find the paramedic cutting off my clothes in front of 200 extras. To make matters worse, it was a freezing day in February so, like a good northern girl, I'd got my vest tucked into my knickers. At hospital, they shaved half my head to stitch my wound.
I still turn up on shoots and some gaffer or spark will walk by me and say: "I've seen your knickers."
Sam Walker
Executive creative director
Karmarama
I was in the south of France, shooting an ad for Orange featuring an 80-year-old "wise man" on a yacht being accidentally knocked overboard by a swinging boom.
We had enlisted an older stuntman, a 55-year-old former jockey with a body like Bruce Lee. The director explained to him that he had to fling himself sideways, like a goalkeeper, and hit the water as violently as possible for maximum comedic effect.
We enlisted a 55-year-old former jockey with a body like Bruce Lee
Now, anyone who has ever filmed on boats will know that it takes ages to set up any shot, let alone a complicated stunt. Four hours later, we were massively behind schedule and starting to see the shoot falling apart in front of our eyes. Seemingly unable to do the stunt, the stuntman left it until halfway through the day to inform us that it was simply too dangerous to perform. While the director became more and more frustrated, the French second assistant director just stripped off and launched himself unceremoniously from the top deck of the boat. Passing over the stuntman and director's heads and narrowly missing the railings, he smashed into the water with real impact.
"Maybe it can be done," the shamed stuntman muttered and, lo and behold, did the stunt first time. Not as good as the second AD, mind you, but good enough. And then he went back to not being able to do it. Never work with boats and old stuntmen.
Trevor Robinson
Founder/director
Quiet Storm
It was one of my first jobs as a young director in South Africa. I knew, being black, that it would be a hostile environment for me but I didn't anticipate to what degree – none of the crew took too kindly to having a black director and the shoot was beset with little mutinies.

It was an ad for Lucky Lotto and, in one scene, I was meant to shoot the singer Ute Lemper as "lady luck" walking majestically from the sea towards a guy who had found a lucky coin. We were initially going to use a crane for this, but the crew wouldn't do it, saying the winds were too high.
I knew, being black, that it would be a hostile environment for me
I thought I had solved the problem when I came up with an idea for building a platform, only to discover that the day of the shoot was on the one day of the year that the tide goes right out – apparently all the surfers know about this, but none of us did – and the set-up looked ridiculous. We eventually shot the ad in some infinity cove, but it was the shoot that was designed to plague us. So much for lady luck.