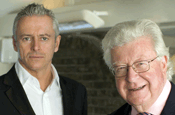 Mark Craze, the managing partner at its MPG agency, is stepping up to the role of chief executive, Havas Media UK, while Marc Mendoza, also a managing partner at MPG, becomes the chief executive of the media agency.

Craze will head a media group that comprises MPG, Havas Sports, Arena BLM, the branded content and PR agency Cake and Archibald Ingall Stretton, the digital and direct agency.

Havas, which claims that the new group will have media billings of £650 million, is hoping that the creation of Havas Media will encourage greater collaboration between the agencies - which also include the digital operations Media Contacts and BLM Quantum - as well as efficiencies across back office areas such as finance, IT and research.

However, Havas will not pool the media billings of its agencies into a single media buying unit.

Instead it will maintain a trading model of line-by-line deals for clients.

The HMUK board will be chaired by Lord Watson, the former European chairman of the PR agency Burson Marsteller, and will include Steve Booth, the chief executive of Arena BLM; Jon Ingall, the managing partner at AIS; Mike Mathieson, the chief executive of Cake; Keith Impey, the chief executive of Havas Sports; MPG's Marc Mendoza and Craze.