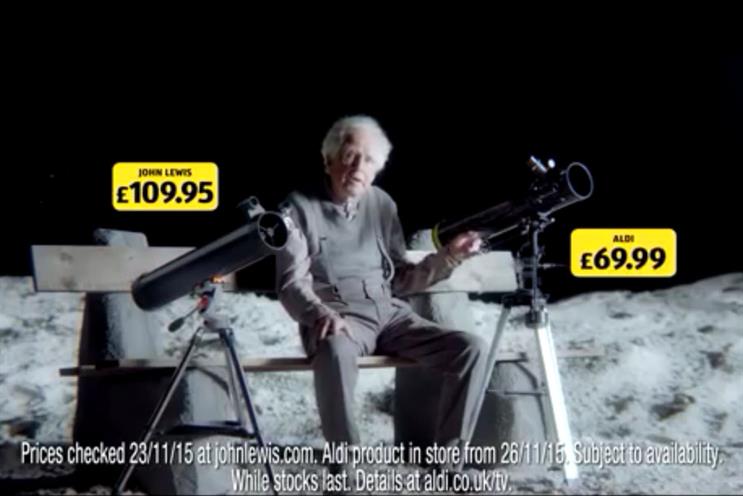 But while most brands spent time preparing their own original idea, many creating advertising of epic proportions, one retailer hit the headlines by instead making a rather clever spoof of a competitor's iconic tearjerker.
Countless parodies of John Lewis' "man on the moon" advert hit YouTube within hours of its launch. A personal favourite is Cornish radio station Pirate FM's spoof in which it sends, to the people of Devon, a peace offering of a Cornish pasty.
But perhaps the most high-profile of all, is Aldi's TV ad "telescope", which features a comparison of one of its products with a John Lewis equivalent, and ends with the star of a previous ad, gin-loving Jean, floating down to join our lonely lunar pensioner.
How is Aldi able to do this?
On 1 October last year, the law changed regarding the use of copyright works. The Copyright and Rights in Performances (Quotation and Parody) Regulations 2014 provide that: "Fair dealing with a work for the purposes of caricature, parody, or pastiche does not infringe copyright in the work."
This, in essence, allows the creative industries to adapt existing works for comedic effect, even to poke fun at their competitors, provided that they stay within the rules.
Keep it fair and funny
To qualify as a parody, there must be fair dealing, meaning that the use of the original work should only be limited or moderate depending on the circumstances. Parodists must use only enough to get their point across and should avoid any denigratory treatment of the original work.
Other intellectual property rights such as trade marks (words, images, sounds or even gestures that function to distinguish goods and services) will still be pertinent and require consideration.
There has also been further explanation as to what constitutes parody at a European level. In the Deckmyn case, the European Court of Justice decided that a parody must "evoke an existing work, while being noticeably different from it" and "it must constitute an expression of humour or mockery".
The latter is objective, so, somewhat bizarrely, it could be up to judges to decide if the criteria for parody are met, based on whether or not they are sufficiently tickled by the material in question.
The sincerest form of flattery?
The new regime gives greater freedom to the creative industries to use existing copyright works to novel and humorous effect. But, in the quest for comedy, care should always be taken to respect the rights of the author of the original work.
John Lewis is reportedly "flattered" that Aldi chose to spoof its Christmas ad. However, as other advertisers test the boundaries of this new regime, we anticipate some interesting legal challenges to be made.
Brand owners will need to strike the balance between accepting being the butt of a joke and protecting their brand identity.
Huw Morris is a senior associate in the Entertainment & Media Industry Group and a founding member of the advertising compliance team at Reed Smith.