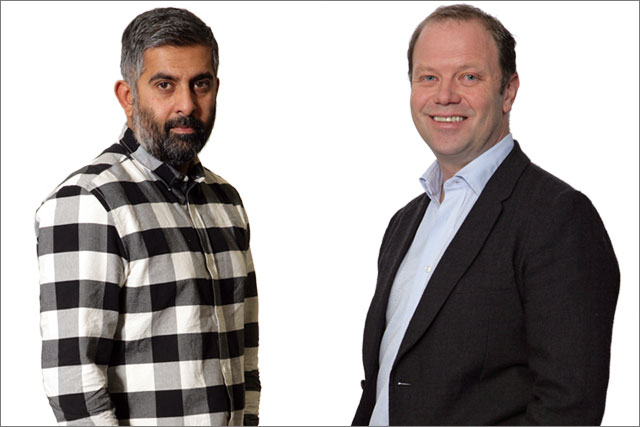 Yahoo! combines the science to understand and target an audience, the art to create lasting engagement through context and and the scale to realise your ambitions.

Great marketing is creative alchemy. If any brand owner knows this, it's Diageo, the world's largest drinks company and home to Guinness, Johnnie Walker and Smirnoff. Andy Fennell, Diageo's chief marketing officer, is the man who ensures the firm gets the measures of art, science and magic just right. Here, he speaks to D&AD president Simon Sankarayya.
Simon Sankarayya: When you think of art and a digital canvas, what comes to mind?
Andy Fennell: Art is about creative expression and while digital doesn't replace other forms of art, it does allow for a new, different creative expression.

Can you give us an example of Diageo digital work that is artistic expression?
We always start with the desire to delight, which means we need some form of artistic expression. The Johnnie Walker video, 'The man who walked the world', which lost out to Old Spice for the Grand Prix at Cannes this year, is a brilliant piece of content that's 6.5 minutes long and only available on digital. It's driving sales, too – Johnnie Walker is in double-digit growth.

Advertising is often a mixture of art and science. How do you balance these?
Great communications are a balance between art and science. I want all our campaigns to get that right. As we shift more money into social media and into portals like Yahoo!, we don't have the body of evidence from 20 or 30 years ago. We have to accept that, for some activities, the norms don't exist. But we can still judge whether something works if consumers change their behaviour.

We're mounting a huge Smirnoff 'Nightlife Exchange' programme, where 14 cities around the world will 'swap nights', with each country exchanging the best of their nightlife with that of another. These ideas will be captured online. You can't do that without the latest technology, magic or art.

Have you ever had a creative dilemma and what did you do about it?
'Swim Black' [a Guinness ad made in 1998] was the story of an Italian swimmer racing against a pint of Guinness being poured. The hero was a 75-year-old man and I remember saying to the creatives [at Abbott Mead Vickers BBDO]: 'So for this cool brand that's going to be consumed by 20-year-olds, we're going to have a hero who's 75?' In the end we went for it, and he turned out to be very relevant to young people. You have to make judgements like that if you want to deliver great marketing that drives growth.

Can the same creative work across different media, such as TV, print and online?
Of course! Successful marketing starts off being media-agnostic. Great ideas have to work on whatever engagement platform we choose, and so it's not okay to have one idea on digital and one on TV. It doesn't work because you don't get any cumulative effect.

How do you select the right technology platforms for your brands?
Good question. There are so many options – in the end, it's down to judge­ment and experimentation. I recently took a bunch of my senior marketers to Silicon Valley, where we met with all the big boys you'd expect, as well as many start-ups. We will invest in some of those start-ups, as well as doing the Facebook deals, the Yahoo! deals and the Apple deals. The key to embracing new technology is to exercise judgement and experiment quite broadly – but within a quick time cycle.


We are spending more than £100m a month on marketing around the world. So it's not really about the cost of experimenting, it's about having platforms for our brands that drive growth. New technologies need to fit into what we're now calling 'participation platforms', which allow us to have a conversation with the consumer.

Is there a marketing development in the past couple of years that you can honestly say has blown you away?
There's a company in Silicon Valley called Potion, which is bringing technology into the physical space, so you have bars and restaur­ants where the table top has the functionality of an iPad that allows you to get wine tasting notes and run video. It's enhancing the consumer experience, not just tech­nology for technology's sake. Marketers have access to a completely new set of techniques now, versus a few years ago, which is a big deal. Five years ago we'd talk about digital marketing as a channel. Now digital is just the context in which we live – it's where our consumers reside, so therefore our ideas have to work in that context.

The way people consume media is evolving. What is your perspective on the convergence of internet and TV?
Screens of the future will have internet access and traditional TV access, with consumers choosing the content that makes their entertainment life more enjoyable. If you think what Apple TV is doing, and what Google TV is going to be doing, the consumer of the future won't think about the artificial dividing lines between TV and internet the way we do. They will just see screens. Broadband penetra­tion is the biggest deal since the invention of the motor car. Once you've got broadband, you can have rich content served up to you any way you want, when you want.

How is the split of Diageo's marketing budget evolving and how do you decide where to concentrate resources?
A more significant distinction is the split between bought media, earned media and owned media. Currently 95% of our spend goes into bought media, whether that's digital or traditional. There will be a significant shift in the investment we put into owned and earned media, which will reduce the amount of bought media, regardless of the channel.

Is your overall digital spend increasing?
If you measure the proportion that goes on digital channels within media, it will probably grow by 30%, maybe more. But that's an outdated way of thinking, because it assumes digital is an alternative set of channels, rather than the context in which consumers live now. The biggest increase in our spend is in social networking. Marketers need to understand how to have a conversation through social networking and firms like Yahoo! and YouTube in the same way as accessing consumers through traditional means.

Will the emergence of social media continue to change the way campaigns manifest themselves online?
It will and the way people use social media will evolve, too. Video search is becoming quite sophisticated now and will change the way the consumer's experience works.

What most inspires you?
Watching Vietnam's economy exploding. The country has a very young population, they've got economic growth and there's an energy and a vibrancy. Another example is that Silicon Valley trip – a whole week being stimulated by the art of the possible. Going to the campuses of all these great tech companies, sitting with them, understanding their attitude to marketing, to technology and how they bridge the two. We will get a competitive advantage by being first into some of these emerging technologies.

Can you give us an example?
We'll be the first beer brand on Apple's mobile advertising platform, iAd, in the US. It's not proven but I believe in it. We were one of the first to do 3D ads in the UK with our rugby activity – that worked really well because it was in pubs, and watching sport on 3D is fantastic.

Do you think there is a need to find new ways to advertise online or should we stick to what we know is working?
Of course we need to evolve. If the consumers are moving we need to move with them. Marketers who wait for proof that platforms work will end up coming second. The key thing is to experiment, so that you're betting the pig, not the farm.

Which non-drinks brand do you most admire and why?
L'Oréal's men's grooming products are great and are marketed nicely.

Was there a conscious decision by Diageo to keep spending on marketing during the downturn?
Yes, because we believe in building brands. We are reallocating money to where there's more growth, whether that's by geography, by brand or innovation. We dialled up our innovation during the recession, and from January to June [this year] we increased marketing spend by 14%, because we believe in it. Diageo is almost entirely about the relationship between consumers and brands, and therefore the idea that you have to build brands is in our DNA.
CVs
Andy Fennell

Simon Sankarayya

Chief marketing officer
Diageo
President, D&AD
Co-founder and art director, AllofUs
Fennell, a seasoned drinks marketer, was senior brand manager for Bass's Carling Black Label brand before joining Guinness in 1997. After taking charge of Smirnoff and rum in 1999, Fennell doubled the turnover of both within three years. As European marketing director, he engineered growth in Eastern Europe and Russia. He was made CMO in 2008.
'Sanky' is a founding partner of interactive agency AllofUs, running a team of visual designers in his role as art director. Having studied information design, Sanky joined Digit as an art director working on projects for Nike, Motorola and Stella McCartney. He is a regular conference speaker and teacher at the London College of Communication.