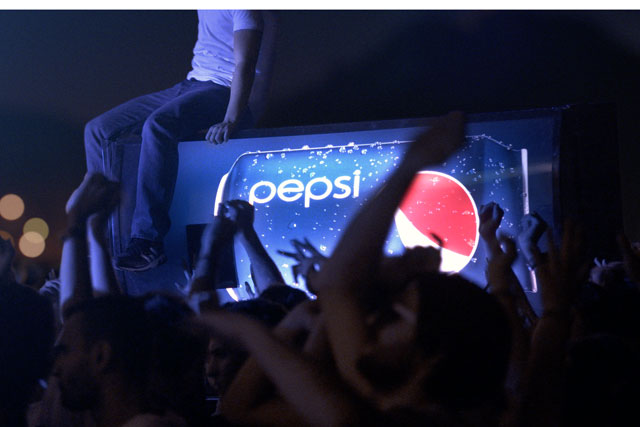 Framestore worked on the VFX for CLM BBDO's 2012 Pepsi Max global TV campaign, "football", which sees San Sebastian's beach play host to a massive party, with the DJ Calvin Harris at the helm and footballers including Lionel Messi and Didier Drogba crowd-surfing.
A team of 20 VFX artists - spanning crowd specialists, NUKE compositors, roto artists, animators and technical directors - worked on the production for four months. The ad broke on 4 April.
THE TEST
Framestore was commissioned by CLM BBDO to create a test back in July 2011. This was our opportunity to prove we could make the idea of football players running on top of crowds feel grounded in reality. We threw a big team of creatives, animators and technical directors at it for a week and came up with a sequence that was loved by the agency and Pepsi.
THE PREVIZ
Once Steve Cope was appointed as the director, we collaborated closely with him to achieve his vision while integrating our technical know-how. Working to his storyboard, we started to previsualise the commercial in detail with our previz partner, The Third Floor. This was its first commercial job in London and we started work as the paint was drying in its brand new office. By creating a detailed previz, we could help the production team establish what needed building and shooting, how many crowd extras were required and which elements would be composited or created in CG. We developed a colour-coded previz so everyone knew, on a shot-by-shot basis, what portion of the crowd or footballers were doubles, CG, extras or tiles.
THE SHOOT
There were four shoots across four countries over three months. Chris Redding, the VFX supervisor for the project, oversaw the backplates shoot in San Sebastian, the greenscreen studio plates in Romania and then, once the rough edit had been approved, the footballer plates in London. There was a final shoot in Barcelona for Messi.
POST-SHOOT
While the shoot progressed, Diarmid Harrison-Murray and Martin Aufinger began developing a bespoke crowd system in a software package called Houdini. We needed a system that was flexible enough to deal with the unique and unknown challenges of the script's crowd. The system we developed dealt with the obvious challenges of crowd simulation, such as realistic variation of movement and textures; but we additionally developed a higher level of control that allowed us to craft and influence the crowd's behaviour in an intuitive, broad-stroke fashion. With this, we could then layer the reactive behaviour of the crowd to the footballers on top of the more generic crowd animation.
This approach had the added benefit of not having to motion-capture every single action. Instead, we could focus on generating a rich library of generic action and then let the crowd system create more specific behaviours, such as supporting the footballers' feet as they run past. Our design philosophy was to keep things modular to make further development of the system more accessible while allowing easier customisation of our tools to meet the job's very specific creative and technical challenges.
We captured high-resolution panoramic "dome" images of San Sebastian and projected them in NUKE on to an accurate topographical model of the city. This allowed Russell Dodgson, our head of NUKE, to place a virtual camera anywhere on the beach and achieve realistic scale, perspective and defocus effects that could then be applied to each shot. This enabled rapid adjustment of the environment to aid the commercial's geographical logic, meaning the director could see how the layout and story were working from a very early stage.
The next ten weeks saw our team of 20 CG and 2D artists work tirelessly on tasks that included replacing some footballers with fully CG body doubles to enable relighting and reanimating, CG and 2D face replacement, developing CG lasers and letters, and creating a CG football. We also built bespoke CG animated hands and arms for specific interaction between the crowds and footballers. Finally, we finessed aesthetics by developing final-look volumetric lighting, flares, smoke and atmosphere.
Working with Cope was an incredibly collaborative process. He really listens to VFX artists. David Foulds, PepsiCo International's vice-president, advertising, and CLM BBDO were very trusting. They understood that they wouldn't be seeing the ad's 67 VFX shots until they came together in the final week. It probably made them nervous, but they let us get on with it and do what we do best.
After an incredible team effort and punishing last few weeks, the team delivered all shots with a mammoth 48-hour final push. On a slightly euphoric high, we had a last supper of Byron burgers before heading home for a very long and well-deserved sleep.
Abby Orchard is a senior producer at Framestore.
CREDITS
Agency: CLM BBDO
Agency producer: France Monnet
Production company: Rattling Stick
Director: Steve Cope
Producer: Kate Taylor
VFX: Framestore
Telecine: Dave Ludlam