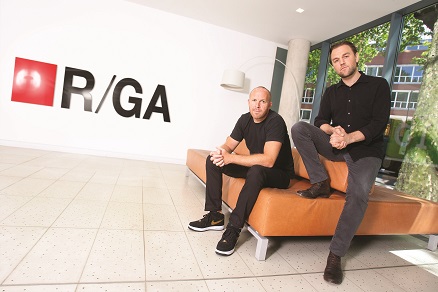 Walking into R/GA London's cool Clerkenwell offices, a stone's throw from Exmouth Market, you could be forgiven for thinking that you know what you're going to get. The minimalist layout, allied with creative snugs featuring ping-pong and football tables, screams identikit, flat-pack digital agency.
Look and listen a bit closer, though, and a picture of a different organisation emerges – one that claims a unique approach. A clue is that the joint managing directors, James Temple and Matt Lodder, talk little of technology. Instead, they use words such as innovation, creativity, storytelling and inspiration to describe how R/GA works at the intersection of art and technology, creating integrated products and services, and communications.
"We're not really an agency," Temple says. "We're part-consultancy, part-
agency, part-product design – the full 360 degrees."
It's a bold claim from an outfit barely seven years old, but R/GA London, the European outpost of Bob Greenberg's New York parent, backs it up with a client list that includes Coca-Cola, Google, Heineken, Unilever, the BBC, Nike and Beats by Dre.
The Beats relationship embodies how R/GA London works best as a close and trusted collaborator. Their partnership has seen Beats develop from a small disruptor brand to one that controls 70 per cent of the premium headphones market in the US and was Apple's biggest acquisition.
R/GA's spots for Beats' wireless headphones were hailed as some of the best sports advertising ever. Its more cheeky and iconoclastic work for the miniature Pill speaker demonstrates a different strand of creativity and delivery, based on an ambition to make real-time TV that works in a social world. Both undermine any notion that you can't give a grown-up ad brief to a digital shop.
Launching seven years ago with just five people, R/GA London now has more than 180. Turnover has grown by 20 per cent year on year for four years, and by 27 per cent last year, to more than £20 million.
A philosophy of organic growth has been based on bringing in new clients, with seven last year including Heineken, Google, Diageo and Coca-Cola. London is the European hub of this growing part of its Interpublic parent's network. It is looking to launch an office in Turkey for its Turkcell client and has also opened a Los Angeles unit to service Beats.
Pitch success has been based on clients looking for partners who can help them through disruptive times, Lodder says. As a creative company that has a history of evolving with the times – from special effects and video production through to the demands of the connected age – R/GA has already made this journey.
As technology assumes a greater importance in our lives, and hence in marketing, it requires a special type of agency to breathe life into it, Lodder says: "We cannot offer advice to clients if we haven't transformed ourselves."
It is a philosophy aimed at changing the way that people experience brands. This means work that has a genuine impact on how the brand is perceived, transforming the experience of consumers and the bottom line of the business.
R/GA London talks about communications as combining "doing" and "saying". Digital agencies have always been good at behavioural design and bottom-up thinking (doing), but not so good at storytelling (saying), Temple admits.
However, the agency has concentrated the past couple of years on developing its credentials in this sphere. "Simplifying digital systems to the stage where people can understand and use them intuitively is very hard, and telling that story is even harder. The last two years, we have focused more on the storytelling part of the equation," he says.
According to Temple, it makes sense to allow the agency that comes up with the product innovation to tell the story. It's easier for R/GA to "get" storytelling than it is for traditional creative agencies to journey the other way, he argues: "We are creating physical hardware and software, and processes. It's deep knowledge and you cannot just grow it. It's also hard to tell a story well, but there is a process to it that is established and understood."
To produce this end-to-end capability, R/GA curates multidisciplinary teams of seven (eight with the client) in which all partners have an equal investment. By collectively getting behind the idea, a level of passion is locked in. Team members often become lifelong friends. To embrace the start-up culture further, R/GA has its own accelerator, in conjunction with Techstars. As well as providing insight into the companies of tomorrow, it allows R/GA to help them develop their brands and service design.
Their view is that start-ups have engineering, energy and business savvy in place but often miss out on brand, service design and comms so their energy and belief don't come through.
Clients such as Unilever are also doing this and agencies have to keep up, Lodder says: "The world is being radically transformed and this brings new insights and ideas to the hermetically sealed agency environment."
By embracing the dynamism of start-up culture, brands and agencies can learn to operate in real time – something they need to do in the connected age. For the World Cup, R/GA London created a newsroom for Google that developed shareable news items based on each game, allowing it to take part in, and shape, social debate.
Operating at the speed of culture means that brands and their agencies can no longer rely on traditional campaign timelines. R/GA teams work to a process of continuous iteration and collaboration, embracing change and developing communications in line with how a product evolves.
To help ingrain this agility, the agency holds regular R/GA London Make Days for staff and clients where ideas go from paper to prototype in 48 hours. Internally, it teams people who might not have a chance to work together and, for clients, it provides evidence that they can use to push the barriers within their own organisations. A Unilever Make Day on sustainability issues led to ten prototypes that will yield product developments next year.
R/GA is looking beyond next year, though, and thinks in terms of nine-year cycles that agencies and clients need to adapt to. Ask Temple and Lodder what's next and they're off: invisible interfaces, sensor-based technology, contextual lifeservices...
Whatever is coming next, it is clear they are already eagerly exploring the terrain.
R/GA's Executive Management Team:
R/GA London's success is fundamentally down to its staff and the talent it hires, and this is reflected in its executive management team which contains the leading lights from across the industry. They are:
Alex Wills, Executive Director, Content, Digital Studio
Patrick Van Kann, Executive Technical Director
Rodrigo Sobral, Executive Creative Director, Visual Design
Dave Robbins, Executive Production Director, Production
George Prest, VP Executive Creative Director
Maggie Lonergan, Executive Client Services Director, Client Services
Drew Burdon, Head of Strategy and Planning
The Game Before The Game - Beats by Dre case Study
R/GA London's partnership with Beats by Dre has seen the creation of some iconic sports advertising in recent times, as well as the headline-grabbing streaming service Beats Music. The ambition is to create authentic culture around sound products. The London Olympics were a breakthrough, when athletes appeared wearing the colourful headwear. R/GA further drove the brand's image as an essential piece of kit with campaigns that emphasised Beats' role in helping sportspeople block out distractions. Its 'hear what you want' spot featuring the NBA star Kevin Garnett has been lauded in the US. 'Game before the game', a five-minute rumination on how footballers get in the zone, has been watched almost 23 million times. Working as a collaborative, transparent team, agency and client move at the speed of the culture that the brand feeds on. An example is the spot produced for the Video Music Awards immediately after Miley Cyrus' infamous 'twerk' performance in which R/GA used Beats' Pill characters to comment on the dance that had just been seen by millions.
Work gallery
• 'The Pills' for Beats by Dre was a gold Lion-winning, social media sensation that drove record sales
• Google's World Cup Newsroom transformed real-time search trends into insightful stories as games unfolded
• The innovation @wherenext for Heineken uses social data to open up cities by showing where's hot right now