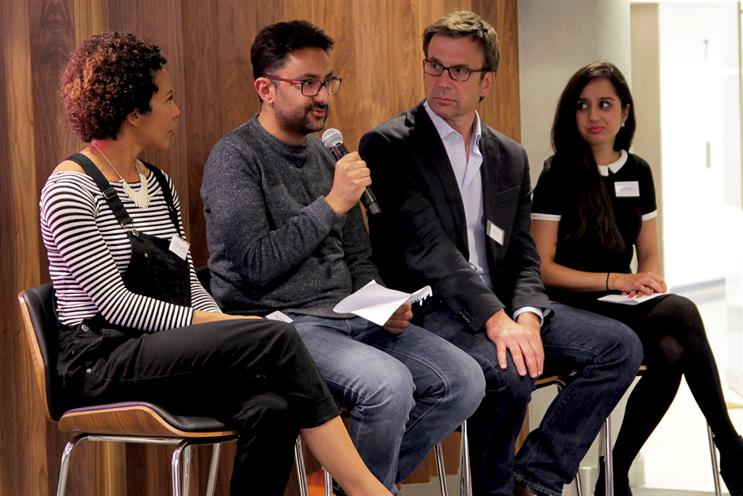 Last week, AMV BBDO hosted one of the charity's regular Creative Industry Showcases – the first to be held in an advertising agency.
Over 120 BAME students and graduates came to hear a distinguished panel talk about working in sectors including theatre, TV, film, journalism, advertising and book publishing. The speakers talked about their respective roles and offered advice on the best way to launch a career in the creative industries.
The event was hosted by Cilla Snowball CBE, the group chairman and group chief executive of AMV BBDO. She kicked off by discussing some of the agency's high profile campaigns, including the #MadeofBlack campaign for Guinness Africa.
She also talked about the lack of diversity in the advertising industry, a theme echoed by the rest of the panellists.
Saurabh Kakkar, the head of comedy at Big Talk Productions, stressed the importance of diversity in the TV sector. In his view, it is the industry's responsibility to ensure that they are representing the values and cultures of their audiences; "unless you incorporate every single culture in your country, you will stagnate."
This is a central tenet behind the establishment of Creative Access. Diversity is an economic necessity for the UK's creative industries.
Talawa Theatre Company's Mimi Findlay addressed the issue of young UK talent who feel that they need to go overseas to get the roles of their dreams. She said: "if you were born here or grew up here, it is our responsibility in the creative world to make sure that we create enough opportunities for you in the UK and nurture your talent so that you will not need to go overseas."
Sathnam Sanghera, the chair at Creative Access and a features writer at The Times, talked about his experiences in newspapers.
He reiterated the importance of hard work and encouraged the audience to make their own opportunities, saying "the best thing about the media is that you are only judged on the last job on which you worked."
Matt Cole, the head of Keo West at Keo Films, had the view that there has never been a better time to join the creative industries. He reminded attendees that creativity is inherent in many of the different roles available, saying "some of the most creative people I know would not consider themselves to be 'creatives'."
Genevieve Ampaduh, the Rye Social founder, said that in her experience "enthusiasm is the key to succeeding. You need to show that you are willing to do anything."
Her comments were mirrored by Creative Access alumna Sonia Razvi. After completing her internship at HarperCollins, Sonia was offered a permanent position as the digital and marketing executive of the Children's Division.
She said: "If it wasn't for Creative Access, I would not be where I am today. My advice to you all is simple; if you want to go far you need to be willing to go above and beyond what is required of you."
The evening concluded with a fantastic networking session where attendees were able to chat to our speakers, the Creative Access team and a host of Creative Access interns and alumni.
Snowball said: "We are always trying to make progress when it comes to diversity but there is still some way to go. We were thrilled to meet so many talented and aspiring advertising hopefuls. Creative Access is a win-win for agencies and students determined to address the diversity imbalance in the creative industries."
Creative Access is funded through HM Government and Creative Skillset and is able to provide match funding for companies who take an intern through the programme.
Josie Dobrin (@josiedobrin) is the chief executive at Creative Access