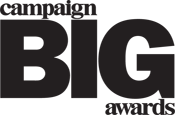 This new multidisciplinary competition will reflect how agencies work for their clients in the 21st century, as it will be based on product categories. It will be possible to enter work into six media areas - digital, direct, outdoor, press, television and cinema, and radio.

Overall, the Big Awards chair, Nigel Bogle, the group chairman at Bartle Bogle Hegarty, will be joined by six jury heads for a two-stage judging process.

The jury chairs are:
digital - Mark Cridge, the chief executive of glue London;

direct - Rory Sutherland, the vice-chairman of Ogilvy Group UK;

outdoor - Trevor Beattie, the founder of Beattie McGuinness Bungay;

press - Rosie Arnold, the creative director of BBH;
television - Richard Flintham, the executive creative director of Fallon;

radio - Russell Ramsey, the executive creative director of JWT London.
Each jury will comprise creatives, media and planning experts, and two prominent clients who have personally sponsored original and effective work.

Entries can be filed across the Big Awards' 13 categories from 31 March until 20 June. This closing date will allow agencies to enter work breaking after the summer awards season's deadline.

Visit www.campaignbigawards.com for further information.